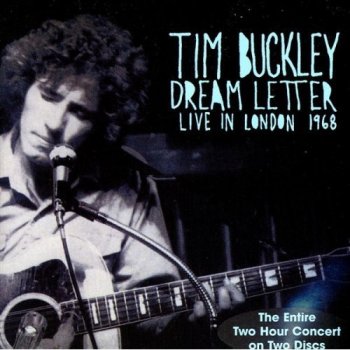 Artist: Tim Buckley
Title Of Album: Dream Letter: Live in London 1968
Year Of Release: 1990/1995
Label (Catalog#): Manifesto/Bizarre Records/Straight [MFO 40703]
Country: United States
Genre: Folk Rock, Psychedelic, Folk Jazz, Singer/Songwriter
Quality: FLAC (tracks +.cue,log,scans)
Bitrate: Lossless
Time: 1:56:41
Full Size: 738 mb
Upload: Turbobit / DepFile
This, like so many Enigma releases, was literally a dream project, and carries a lot of energy and love with it, in the music and the performance. Recorded in London in 1968, when Buckley was just beginning to be really successful and had yet to move out of his folk-oriented phase. The band he's working with here is simple -- Buckley's voice and fairly simple guitar; Lee Underwood providing subtle, almost jazz-like electric accompaniment; Pentangle's Danny Thompson sitting in on bass (with a minimum of rehearsal); and vibraphone player David Friedman. There's an assortment of songs from the three albums Buckley had released up to then, plus a couple that would turn up on later albums, and six songs that he never released in any form. This album, however, was released for the first time in 1989, and what you get is the complete concert -- no cuts, no edits, no rearranging. It's a spectacular piece of work, too. It's difficult to believe that the tape was made in 1968 -- there's almost no noise, the music seems perfectly recorded, and the ambience is breathtaking. Buckley's voice is right up front, hovering over the acoustic guitar, clear as a bell. It's a tribute to CD mastering wizard Bill Inglot, who co-produced the release, that it has such a gorgeous, broad sound. The instruments are carefully separated, clean, and glitch free; if there are tape dropouts here, one can't hear them. Musically, it's a spirited affair. Buckley is a beautiful singer, and had a broad selection of excellent, often breathtaking, songs. Even when the songs are a bit of a mish-mash, as happens with the unfortunately over-energetic "Who Do You Love" (one of the unreleased songs), you're caught by the vocal pyrotechnics he displays -- he can be seductive, and he can be a shouter, and he's always very, very good. Other than this, there's very little to say about Dream Letter. If you're at all interested in Buckley, or in various hybrids of folk music, then this album is a must. If you just want to hear one of hell of a good CD, check it out.
TRACKLIST:CD 1:
01 - Introduction
02 - Buzzin' Fly
03 - Phantasmagoria In Two
04 - Morning Glory
05 - Dolphins
06 - I've Been Out Walking
07 - The Earth Is Broken
08 - Who Do You Love
09 - Pleasant Street; You Keep Me Hanging On
CD 2:
01 - Love From Room 109 ; Strange Feelin'
02 - Carnival Song ; Hi Lily, Hi Lo
03 - Hallucinations
04 - Troubadour
05 - Dream Letter ; Happy Time
06 - Wayfaring Stranger ; You Got Me Runnin'
07 - Once I Was
:: DOWNLOAD LINKS ::
Внимание! У Вас нет прав для просмотра скрытого текста.