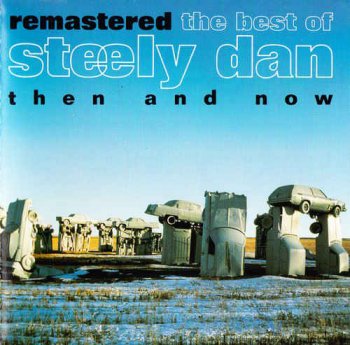 Artist: Steely Dan
Title Of Album: The Best Of Steely Dan: Then And Now
Year Of Release: 1993/1998
Label (Catalog#): MCA Records [MCD 10967]
Country: United States
Genre: Soft Rock, Jazz-Rock
Quality: FLAC (tracks +.cue,log,scans)
Bitrate: Lossless
Time: 1:19:33
Full Size: 603 mb
Upload: Turbobit
There's a reason why "remastered" is part of the title of Then and Now: The Best of Steely Dan Remastered. Steely Dan's fans are notorious for their love of pristine audio quality; they loved virgin vinyl pressings of the Dan's classic studio work and they loved the CD reissues. So the distinction that this 1993 collection is remastered is important, since it gives the hardcore a reason to check it out. Of course, in the years since, the remasters have been replaced by new remasters, most notably the Fagen and Becker-endorsed 1999 reissues, but this was still an improvement over the issues in the marketplace in 1993. More importantly, at least to the general audience, is that the compilation is a good overview of the band's work. It doesn't follow chronological order and there are omissions that are easy to spot, especially since it decides to balance singles with album tracks from "Midnite Cruiser" to "Josie." Still, this is a really entertaining sampling, heavy on their big hits yet still an accurate portrait of their breadth and depth. Nothing that the hardcore fan needs to add -- unless they don't have "FM" somewhere in their collection or are a completist or an audiophile circa 1993 -- but casual fans will enjoy it (though it's not much better than the easily available A Decade of Steely Dan, so it's not necessarily worth an extensive search for this British collection). Best of all, the auto-Stonehenge makes for the coolest cover ever for a Dan compilation.
TRACKLIST:
1 Reelin' The Years 4:35
2 Rikki Don't Lose That Number 4:04
3 Peg 3:54
4 FM 5:04
5 Hey Nineteen 5:04
6 Deacon Blues 7:26
7 Black Friday 3:39
8 Bodhisattva 5:18
9 Do It Again 5:51
10 Haitian Divorce 5:48
11 My Old School 5:45
12 Midnite Cruiser 4:09
13 Babylon Sisters 5:51
14 Kid Charlemagne 4:29
15 Dirty Work 3:08
16 Josie 4:30
:: DOWNLOAD LINKS ::
Внимание! У Вас нет прав для просмотра скрытого текста.