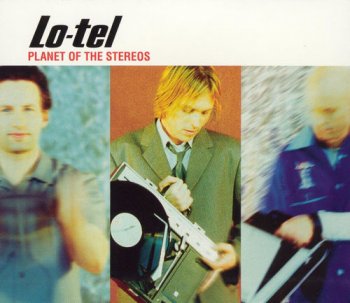 Artist: Lo-Tel
Title Of Album: Planet Of Stereos
Year Of Release: 2000
Label (Catalog#): Murmur/Sony Records [MATTCD108]
Country: Australia
Genre: Alternative Pop Rock
Quality: FLAC (*tracks +.cue,log,scans)
Bitrate: Lossless
Time: 45:52
Full Size: 574 mb
Upload: Turbobit
Planet of the Stereos was a pretty big hit in Lo-Tel's native Australia. Domestically it doesn't pack quite as much of a punch, mostly because principal Luke Hanigan's songs don't reach very far past the mezzanine between post-grunge and adult alternative. In other words, Lo-Tel sounds at varying times like Vertical Horizon covering Seether, or vice versa. Opener "A Pop Song Saved My Life" is a crunchy mid-tempo rocker jazzed up with WEE-oo WEE-oo synths, while the single "Teenager of the Year" opts for a thicker post-grunge sound. (Hanigan is adept at shifting his voice from a silkier version of Kurt Cobain to a sunnier pop croon.) Those whizzy keys return for "Genre Casting," and "Same..." is hooky enough to make an impression beyond its slick layers of electronics and electric guitar. Stereos probably won't make the impression here that they did down under. But fans of mature, well-crafted alt rock with a slick pop edge should pick up a copy, and impress friends who only have Goo Goo Dolls albums.
TRACKLIST:
1 A Pop Song Saved My Life 3:32
2 Hudson N.Y 4:23
3 Crucifix 3:29
4 Teenager Of The Year 4:30
5 Same... 3:01
6 Anytime You See Fit 1:05
7 Sweet Janelle 3:13
8 Fashion 3:52
9 Genre Casting 3:20
10 Disconnected 3:05
11 An Open Letter 3:43
12 Game Show Host 8:39
Video 1 Genre Casting 3:20
Video 2 A Pop Song Saved My Life 3:28
Video 3 Teenager Of The Year 3:23
:: DOWNLOAD LINKS ::
Внимание! У Вас нет прав для просмотра скрытого текста.