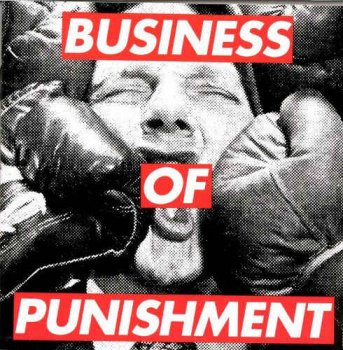 Artist: Consolidated
Title Of Album: Business Of Punishment
Year Of Release: 1994
Label (Catalog#): London/Polydor Records [828 514-2]
Country: United States
Genre: Industrial Hip-Hop, Alternative Dance
Quality: FLAC (tracks +.cue,log,scans)
Bitrate: Lossless
Time: 1:10:40
Full Size: 529 mb
Upload: Turbobit
Consolidated's fourth album thankfully follows the advice from the title of its third, Play More Music, largely eschewing the overkill of politicizing and audience response segments that, even according to the band, made their previous two albums unlistenable. Their usually over the top sociopolitical lyrics have been toned down a bit here, so much so that you have to listen closely to realize they're addressing serious issues like abortion rights ("Born of a Woman"), AIDS ("Today's My Birthday"), pornography ("No Answer for a Dancer"), and capital punishment (the title track). The band seems a bit more focused on the music itself this time around, switching up styles from aggro-rock to funk to psychedelia to industrial noise to keep the listener's attention. Though at times the band could still be accused of preaching to the choir, at least on Business of Punishment the politics and the music don't seem to be fighting quite so hard for control of the spotlight.
TRACKLIST:
1 Cutting 5:09
2 Business Of Punishment 5:50
3 Born Of A Woman 4:01
4 Das Habe Ich Nicht Gewusst 5:20
5 No Answer For A Dancer 4:44
6 Meat, Meat, Meat And Meat 0:50
7 Dog + Pony Show 3:42
8 Today Is My Birthday 6:23
9 Butyric Acid 3:53
10 Woman Shoots John 4:35
11 Consolidated Buries The Mammoth 5:47
12 Worthy Victim 5:19
13 Recuperation 2:24
14 Empowerless 7:35
15 Emancipate Yourself 4:52
:: DOWNLOAD LINK ::
Внимание! У Вас нет прав для просмотра скрытого текста.
:: MusicMuss ::
Изменил: artmuss по причине: Re-Up