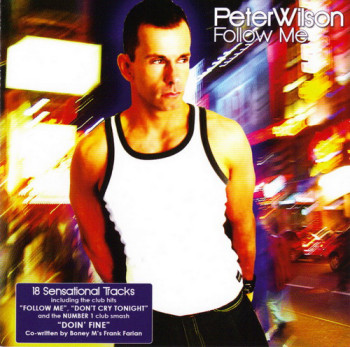 Artist:
Peter Wilson
Title Of Album:
Follow Me
Release Date:
2007
Location:
Australia
Label:
Klone Records
Genre:
EuroDisco
Quality:
FLAC | lossless (image+.cue)
Length:
78:04 min
Tracks:
18
Total Size:
714 MB (+5%)
WebSite:
MySpace
Download:
Letitbit, Unibytes, Filesonic, Uploadbox
Peter Wilson, born March 9th 1973 in Melbourne. Went to Camberwell High School, studied music from childhood. Grew up idolising music by Abba, and anything Stock Aitken Waterman or European. Released a string of singles in Australia in 1994-1999, and released the album "Follow Me" in the UK on September 24th 2007. Is now one half of T1 Productions based in Melbourne (with Chris Richards), writing/producing music for other artists such as Carol Jiani, Evelyn Thomas and 70s icon Amanda Lear. Peter still loves the pop he grew up with, which comes through in his writing with Chris. They are aiming to bring true pop and classic songs back into great new dance and pop music.
Tracklist:
01. In My Dreams [0:03:08.64]
02. Follow Me [0:08:14.09]
03. Doin' Fine (Daddy's Cool Mix) [0:03:58.19]
04. Best Years Of My Life [0:04:25.65]
05. Seven Sins [0:04:17.24]
06. Your Love Is My Light [0:03:08.64]
07. Wait By The Radio [0:03:36.59]
08. High On It [0:06:03.38]
09. I Love You Unashamed [0:04:01.41]
10. Don't Cry Tonight [0:04:13.55]
11. Chemical Reaction [0:03:52.61]
12. Love's Slipping (Through My Fingers) [0:03:29.40]
13. Don't Go Away [0:03:20.69]
14. Best Love You Never Had [0:03:22.17]
15. Whisper To A Scream [0:05:11.37]
16. Rocket To You Heart (PeterWilson-V-Rob Technic) [0:03:11.64]
17. I Wanna Dance (2007 Remix) [0:03:05.50]
18. I Love You Unashamed (Willie2400 Club Remix) [0:07:21.47]
Download / Скачать:
Letitbit.net
Unibytes.com
Filesonic.com
Uploadbox.com