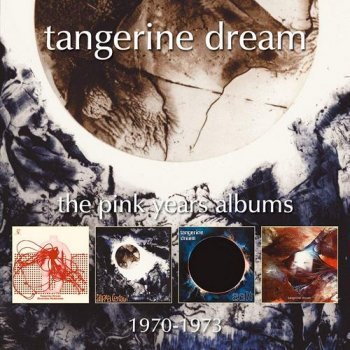 Artist: Tangerine Dream
Title Of Album: The Pink Years Albums 1970-1973
Year Of Release: 2018
Label (Catalog#): Esoteric Recordings [EREACD41037]
Country: Germany
Genre: Ambient, Experimental, Berlin-School
Quality: FLAC (tracks)
Bitrate: Lossless
Time: 3:14:44
Full Size: 1.01 gb
Upload: Turbobit
UK four CD set containing digitally remastered editions of the first four legendary albums by Tangerine Dream, originally released on the Ohr label in Germany between 1970 and 1973. These albums are known by fans as The Pink Years albums. Electronic Meditation was recorded in Berlin in October 1969 and featured the first Tangerine Dream line-up of Edgar Froese (guitars, organ, tapes, sound effects), Klaus Schulze (drums, percussion) and Conrad Schnitzler (cello, violin, typewriter). Upon it's release in 1970, the album would define a genre of music and herald the massive creative musical explosion that would emerge in Germany in the early 1970s. Alpha Centauri was recorded at the Dierks studio in Stommeln and featured a line-up of Edgar Froese, Chris Franke and Steve Schroyder with guests Udo Dennebourg (flute) and Roland Pualyck (synthesiser). Released in 1971 the influence of the album was immense, with the band creating imaginative soundscapes previously unheard on record. Zeit, released in August 1972, a double album with one lengthy track per side, was recorded at the Dierks studio once again and featured a guest appearance by Florian Fricke of another legendary ambient German group, Popol Vuh. One of Tangerine Dream's finest early albums, Zeit was enthusiastically championed in the UK by DJ John Peel and was the group's major breakthrough. Atem, released in 1973, was the band's last release on the Ohr label and heralded the beginning of Tangerine Dream's wider international acclaim. Atem enjoyed success outside of Germany and eventually led to the group signing to the newly formed Virgin label later in 1973.
:: TRACKLIST ::Disc 1 / 4 Electronic Meditation (1970)
01 Genesis 5:55
02 Journey Through A Burning Brain 12:26
03 Cold Smoke 10:45
04 Ashes To Ashes 3:57
05 Resurrection 3:28
Disc 2 / 4 Alpha Centauri (1971)
01 Sunrise In The Third System 4:27
02 Fly And Collision Of Comas Solo 13:37
03 Alpha Centuari 22:22
Disc 3 / 4 Zeit (1972)
01 1st Movement: Birth Of Liquid Plejades 19:54
02 2nd Movement: Nebulous Dawn 18:08
03 3rd Movement: Origin Of Supernatural Probabilities 19:31
04 4th Movement: Zeit 17:46
Disc 4 / 4 Atem (1973)
01 Atem 20:46
02 Fauni-Gena 10:52
03 Circulation Of Events 6:00
04 Wahn 4:42
:: DOWNLOAD LINK ::
Внимание! У Вас нет прав для просмотра скрытого текста.
:: MusicMuss ::