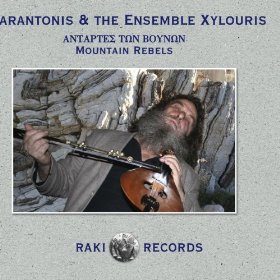 Исполнитель/Artist:Psarantonis & The Ensemble Xylouris
Альбом/Album: Mountain Rebels
Лейбл/Label: Network Medien GmbH
Страна/Country:Greece/Greek
Жанр/Genre: rock ,Folk
Дата/Date: 2008
Формат/Format: CD
Треков/Tracks: 13
Кодек/Codec: Flac
Битрейт/BitRate: Lossless 1411kbps
Размер/Size:425 Mb (1 archives)
EAC,Log+Cue+Covers 300dpi
MY SILVER CD
Залито на/Uploaded on:
------------
Incredible Collection of Authentic Cretan Roots
---------------------------------------------------
Xylouris Antonis ( Greek : Anthony Xylouris, 1942 -), nicknamed Psarantonis ( Greek : Psarantonis) is A Greek Composer, performer and SINGER of LYRA , the bowed string Instrument of Crete and Surviving Most popular form of the Medieval Byzantine LYRA . He Comes from the mountainous Village of Anogeia in Crete and is the Younger Brother of the Late Xylouris Nikos , A Cretan notable SINGER / musician AS well AS the Older Brother of Yiannis Xylouris, An equally notable Cretan musician. His Son, Giorgos Xylouris , is Also A Professional musician mostly Playing the Lute . Psarantonis is Known for the Special Timbre of His Voice and His LYRA Playing Style. Apart from the LYRA Psarantonis VARIOUS Plays Traditional instruments. [the 1st] [2]
He played the lyre First at the Age of the 13th and recorded in His First 1,964 single, titled "I Thought of Denying You" ( Greek : Eskeftika to deny). He HAS Released Recordings since many HAS Then and represented Greece many times in Festivals Abroad. [the 3rd] [four]
In May 2005, Psarantonis Performed at the World Music Institute's 20th anniversary Benefit Concert at Town Hall , New York. In 2007 at the Rock Festival "All Tomorrow's Parties" in Minehead , UK. In January two thousand and nine, he gave memorable performances in the Rock Music Festival All Tomorrow's Parties Hosted in Brisbane , Sydney and Mount Buller (in Victoria) and curated by Nick Cave & The Bad Seeds .
------------------
If you want to return your mind to Crete, this is the album to do it with...
1. O chorós tis vrochis 3:11
2. Ine forés pou me methi 3:16
3. Paráta mblió tin xenitiá 8:15
4. Na min afinis giasemi 6:43
5. Anti na kléo tragoudó 1:56
6. Aspri kátaspri 4:16
7. Mazi chará kei lipi 2:33
8. Kontiliés 7:33
9. Kimáte o ilios sta vouná 5:02
10. Kantáda 8:21
11. Rethymniótika sirtó 3:54
12. Naráidas gié 9:25
13. Chaniótiko sirtó 7:41
Total Length: 1:12:06
Psarantonis: Lyra, mandolin, vocals
George Xylouris: lute, percussion, vocals
Lambis Xylouris: Oud
Win Xilouri: Vocals, percussion
Sophia Euclid: Cello
Nektarios Kontogiannis: Lute
****************************************
Password = Val
пароль = Val
Download:
Внимание! У Вас нет прав для просмотра скрытого текста.