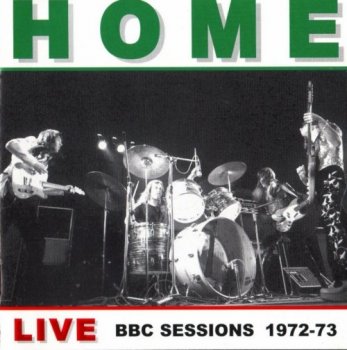 Artist: Home
Title Of Album: Live BBC Sessions
Year Of Release:1972-73/2000
Label (Catalog#) : Major League Productions [MLP02CD]
Country:: UK
Genre: Progressive Rock, Hard Rock
Quality: FLAC (tracks+cue,log,scans)
Bitrate: Lossless
Time: 01:17:02
Full Size: 509mb(+3%)

Home was a relatively obscure British group most closely associated with the progressive rock movement of the early 1970s, but their lasting legacy has had less to do with their music than as serving as a proving ground for several musicians who would go on to find much greater success with future bands.

Founded in London in 1970 by singer/guitarist Mick Stubbs, guitarist Laurie Wisefield, bassist Cliff Williams, and drummer Mick Cook, who eventually attracted some label interest and wound up signed to CBS Records, releasing three albums over the next three years. 1971's Pause for a Hoarse Horse came first with keyboard player Clive John fleshing out the group's relatively understated progressive rock aspirations, which were tempered with elements of the period's easygoing California rock sound and driven primarily by Wisefield's distinctive guitar work.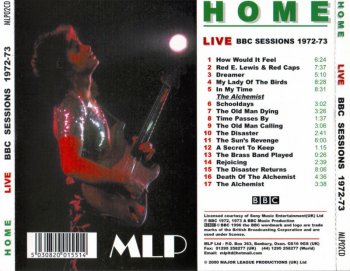 Tracks:
-------
1. How Would It Feel (Mick Stubbs) - 6:27
2. Red E. Lewis And Red Caps (Mick Stubbs) - 7:40
3. Dreamer (Mick Stubbs, Mick Cook, Laurie Wisefield, Cliff Williams) - 5:13
4. My Lady Of The Birds (Mick Stubbs, Mick Cook, Laurie Wisefield, Cliff Williams) - 8:30
5. In My Time (Mick Stubbs, Mick Cook, Laurie Wisefield, Cliff Williams) - 8:33
6. Schooldays - 3:03
7. The Old Man Dying - 3:26
8. Time Passes By - 1:37
9. The Old Man Calling - 3:06
10.The Disaster - 2:41
11.The Sun's Revenge - 6:01
12.A Secret To Keep - 1:15
13.The Brass Band Played - 0:26
14.Rejoicing - 2:40
15.The Disaster Returns - 8:07
16.Death Of The Alchemist - 4:36
17.The Alchemist - 3:41

Tracks 1, 2, 4 - In Concert 22-4-72
Track 3 - In Session/John Peel Sound of 70'S 1-11-73
Track 5 - In Session /Bob Harris Sound of 70'S 28-8-72
Tracks 6-17 - In Concert 24-11-73

Personnel:
---------
Mick Stubbs - Vocals, Guitar, Piano
Laurie Wisefield - Acoustic Guitar, Steel Guitar, Vocals
Cliff Williams - Bass, Vocals
Mick Cook - Drums, Percussion
Jim Anderson - Piano, Organ, Mellotron, Synthesizer, Vocals, (Tracks 6-17)
Внимание! У Вас нет прав для просмотра скрытого текста.