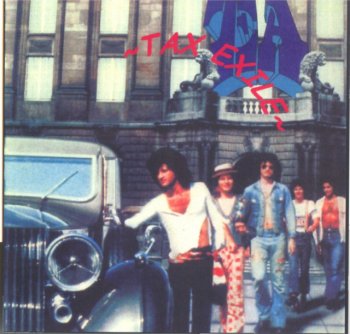 Artist: Tea
Title Of Album Tax Exile
Year f Release: 1976/2005
Label (Catalog#) : Retrospect [RR-106]
Country: Switzerland
Genre: Heavy Prog Rock
Quality: FLAC (image + cue,log)
Bitrate: Lossless
Time: 00:37:58
Full Size: 237mb(+3%)(covers)
Tea biography [progarchives]
TEA is a heavy progressive rock band formed in 1971 in Switzerland. The founding members were drummer Roli EGGLI, guitarist Armand VOLKER, and bassist and vocalist Turo PASHAYAN. The band's name is derived from these three member's first initials. In 1972, the band augmented their lineup with lead singer Mark STORACE. The band heavily toured in Switzerland and France, earning a name for themselves before they had even released any material, which led to them landing a spot on television, unheard of for many bands in their day, in 1973. In 1974, the band finally began to release music, beginning with a few singles that led up to, although they were not included on, the band's debut self-titled album in 1974. After the album's release, they even toured with international superstars QUEEN as the band's "special guests."

1975 saw the band's second album, "The Ship," The album protracted a similar positive buzz as the first album, with many positive reviews published about the album. The band again toured across Europe. In 1976 the band released their third album, "Tax Exile." Yet another European tour commenced, which even included singer STORACE'S native Malta. Although the band had enjoyed great success up to that point, the band played their last concert in 1977.

In 2007, however, EGGLI, VOLKER, and STORACE began thinking about a reunion. The band began rehearsing as a trio, as KIENHOLZ declined to be included in the band and PASHAYAN was discovered to be in a German prison due to fraud charges. 30 years after the band's dissolvement, the band released their fourth album "Reloaded," which was a retrospective album that included lesser known works non-album tracks. The band began to play shows again in December of 2009 again, with Chris EGGER on keyboards and Dan ALLENSPACH on bass.

Tracks:
-------
01. Let's Play The Music (4:06)
02. Alexandra (3:32)
03. Young Family (2:45)
04. Winter Days (3:27)
05. Mind Your Own Business (4:42)
06. Everything (2:50)
07. Guilted Cage (4:18)
08. Just Be Yourself (4:10)
09. Free And Easy (4:08)
10. The Place Where The Money Grows (4:08)

Personnel:
---------
Rolli Eggli / Drums
Armand Volker / Guitars
Turo Pashayan / Bass, vocals
Marc Storace / Vocals
Philippe Kienholz / Keyboards

All thanks to original releaser
Внимание! У Вас нет прав для просмотра скрытого текста.