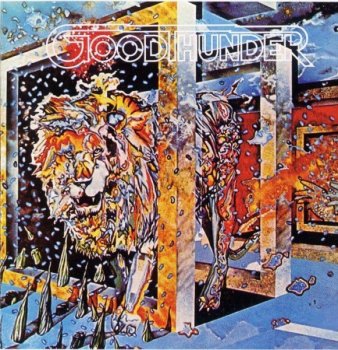 Artist: GoodThunder
Title Of Album: GoodThunder
Year Of Release: 1972
Label (Catalog#) :Synton Archive [ KS7145]
Country:: USA
Genre: Heavy Prog Rock
Quality: FLAC (tracks + log,cue,scans)
Bitrate: Lossless
Time: 00:39:06
Full Size: 250mb(+3%)

GoodThunder biography
Good Thunder were a young, heavy progressive five piece from Los Angeles, comprising of James Cahoon Lindsay (lead vocals, percussion), John Desautels (drums), David Hanson (guitars, vocals), Bill Rhodes (bass) & Wayne Cook (keyboards). Their short-lived existence produced only one album, 1972's 8 track, eponymous debut, released through Continental records, a sub division of Elektra.

Their album is now largely forgotten and certainly didn't attempt to break new ground within the field of Californian bands writing hard, guitar oriented art-rock with a progressive/ psychedelic edge, during the early 70's. That said, the musicianship behind the crunchy guitars, driving bass-lines and underpinning Hammond organ rhythms, demonstrate a more than competent level of proficiency. Indeed, the construction of their more progressive tracks (such as 'Barking At The Ants', the stand-out track of the album) leave one wondering what might have been, with a couple more albums under their belts.

This album would appeal to those who enjoy their traditional, heavy progressive rock with an overtly melodic, pre-AOR commercial feel in the vein of early Angel & White Witch, mixed with Deep Purple, High Tide & Uriah Heep classic rock, with the odd touch of Allman Brothers quirkiness.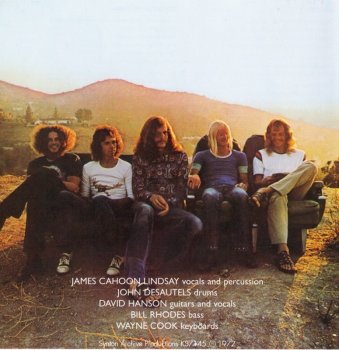 Tracks:
-------
1. I Can't Get Thru To You (Cook, Lindsay) - 3:18
2. For A Breath (Foster, Desautels, Foster) - 5:35
3. Moonship (Cook, Phifer, Lindsay, Cook) - 2:46
4. Home Again (Hanson, Lindsay, Hanson) - 6:48
5. Sentries (Hanson, Lindsay, Linvill) - 2:36
6. P.O.W. (Hanson, Desautels) - 6:50
7. Rollin Up My Mind (Cook) - 4:11
8. Barking At The Ants (Hanson) - 6:39

Personnel:
---------
James Cahoon Lindsay - Lead Vocals, Percussion
John Desautels - Drums
David Hanson - Guitars, Vocals
Bill Rhodes - Bass Guitar
Wayne Cook - Keyboards

All thanks to original releaser
Внимание! У Вас нет прав для просмотра скрытого текста.