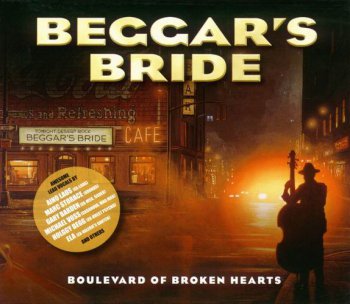 Artist: Beggar's Bride
Album: Boulevard Of Broken Hearts
Year: 2006 (MTM Music)
Style: Hard Rock
Time: 00:50:41
Bitrate: FLAC (tracks +.cue +.log)
Covers: JPG, full scans
1. Broken Hearts (feat. Marc Storace)
2. Footprints In The Sand (feat. Dorkas Kiefer & Michael Voss)
3. Ruled By Clowns (feat. Holggy Begg)
4. You Were My Sunshine (feat. Aino Laos)
5. Dreams (feat. Gary Barden)
6. I Think It's Over (feat. Yan)
7. Eight Feet Below (feat. Michael Voss)
8. First Way Out (feat. Marc Storace)
9. The Radio Is Playin' Softly (feat. Holggy Begg)
10. Tattoo-Nancy (feat. Ela)
11. Thousand Miles From Home (feat. Holggy Begg)
12. The Open Sea (feat. Gary Barden)
13. Below (acoustic version) (Bonus) (feat. Michael Voss)


BEGGAR'S BRIDE:
Fritz Schneider (guitar)
Holggy Begg (vocals, guitar)
Jolene Van Ar (drums, vocals)
Matt Bride (bass)
Michael Bride (guitar, vocals)
ADDITIONAL VOCALS:
Marc Storace, Gary Barden, Dorkas Kiefer, Michael Voss, Aino Laos, Yan, Ela

Produced by: Michael Voss

Holggy Begg, Swiss producer, singer and songwriter, hits the spotlight for the first time with his project BEGGAR'S BRIDE. Before this, he worked on productions such as the recent solo album by ONI LOGAN. "Boulevard of Broken Hearts" tells 12 short and autobiographic stories, dealing with the here and now, days gone by, expectations, longings, disappointments, hopes and new beginnings. Famed producer and multi-instrumentalist Michael Voss (MAD MAX, CASANOVA) as well as guest musicians such as MARC STORACE (Krokus), AINO LAOS (ex-Laos), GARY BARDEN (ex-MSG, Silver), ELA (ex-Valerie's Garten), DORKAS KIEFER and YAN make BEGGAR'S BRIDE a real treat for all those who enjoy high quality melodic rock and AOR. Liner notes, lyrics and track-by-track commentaries in the CDs booklet deliver interesting and en-tertaining background information about the process of making the album. The music of BEGGARS BRIDE unfolds its impact in a pleasantly rocking and melodic way – coming straight from the heart.
BEGGARS BRIDE – a great insider tip!
Внимание! У Вас нет прав для просмотра скрытого текста.