Greatest Hits is the second compilation album by American heavy metal band, Mötley Crüe. It was released on November 14, 1998 on Mötley/Hip-O.
Artist:
Mötley Crüe
Album:
Greatest Hits
Label: Mötley Records/Beyond
Catalog#: 7243 846847 2 3
Matrix: EMI UDEN 8468472 @ 2
Format: CD, Compilation
Country: Made in the EU
Released: 1998
Recorded: 1981-1998
Genre: Rock
Style: Hard Rock, Heavy Metal, Glam Metal
Lineage: SilverCD -> EAC -> FLAC
Quality: FLAC (image + .cue + .log)
Bitrate: Lossless
Total Time: 1:13:53.960
Total Size: 780 MB
foobar2000 ready: yes
Embedded cuesheet : yes
Covers: 600 dpi (.jpg), full scans
Recovery record: 3% (.rar)
Host:

Rip by gonzalo76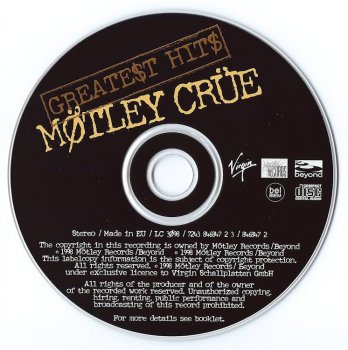 Track listing
1. Bitter Pill - 4:26
2. Enslaved - 4:32
3. Girls, Girls, Girls - 4:30
4. Kickstart My Heart - 4:43
5. Wild Side - 4:40
6. Glitter (Remix) - 4:30
7. Dr. Feelgood - 4:50
8. Same Ol' Situation - 4:12
9. Home Sweet Home - 3:55
10. Afraid - 4:08
11. Don't Go Away Mad (Just Go Away) - 4:40
12. Without You - 4:29
13. Smokin' In The Boys Room - 3:22
14. Primal Scream - 4:44
15. Too Fast For Love - 3:22
16. Looks That Kill - 4:07
17. Shout At The Devil '97 - 3:41
Credits
Mötley Crüe:
Vince Neil (vocals)
Mick Mars (guitar, background vocals)
Tommy Lee (piano, drums, percussion, background vocals)
Nikki Sixx (bass guitar, background vocals)
Edited By [Digital Editing] – Mike Gillies
Engineer – Brian Joseph Dobbs* (tracks: 1, 2)
Mastered By – George Marino (tracks: 1, 2)
Mixed By – Randy Staub (tracks: 1, 2)
Producer – Bob Rock (tracks: 1, 2, 4, 7, 8, 11, 12, 14), Motley Crue* (tracks: 15), Nikki Sixx (tracks: 6), Scott Humphrey (tracks: 6, 10), Tom Werman (tracks: 3, 5, 9, 13, 16), Tommy Lee (tracks: 6)
Remastered By – Kris Solem (tracks: 3 to 17)
Album review by Stephen Thomas Erlewine
Motley Crue parted ways with Elektra in the spring of 1998, releasing their second compilation, Greatest Hits, on their own label that fall. Weighing in at 17 tracks, including two pedestrian new songs, Greatest Hits duplicates much of Decade of Decadence, featuring no less than eight songs -- "Looks That Kill," "Home Sweet Home" (original, not the Decade version), "Smokin' in the Boys' Room," "Girls, Girls, Girls," "Wild Side," "Dr. Feelgood," "Kickstart My Heart" (original, not the live version that was on Decade), "Primal Scream" -- that were on the previous collection. Considering all that overlap, you can be forgiven for thinking that the two compilations are interchangeable, but Greatest Hits actually has the edge, not just because it doesn't feature the silly "Anarchy in the U.K." cover, but because it features a greater selection of hits from their masterpiece, Dr. Feelgood, including "Without You," "Don't Go Away Mad (Just Go Away)," and "Same Ol' Situation (S.O.S.)," all of which weren't on Decade. It has its flaws, to be sure -- the sequencing is illogical, the newer songs are lame, and the original "Shout at the Devil" should have been featured instead of the atrocious Generation Swine re-recording -- but it's still the best overview yet assembled.
Background
Tommy Lee recorded his drum tracks for the album's two new songs, and then started a prison sentence of five months. Additionally, a remix version of "Glitter" is included. The tour for the album began after Lee's release from prison. It would be his last with the band before his return in 2004. The album excludes the John Corabi era.
The album is an updated version of the original compilation Decade of Decadence released in 1991, which is currently out of print. Its cover art features a caricature of the band by artist/designer Erik Casillas.
The compilation won a 1998 Metal Edge Readers' Choice Award for "Best Compilation." It also misses out on some other hits from Motley Crue, such as Live Wire "Piece of Your Action", and "Too Young to Fall in Love".
In 2009, the album was reissued with "Enslaved", "Bitter Pill" and the "Glitter" remix excluded and featuring Motley Crue's new songs.
The 1998 version of Greatest Hits is now out of print while the album was replaced by the 2009 version.
EAC log

Показать / Скрыть текст
Links
Внимание! У Вас нет прав для просмотра скрытого текста.