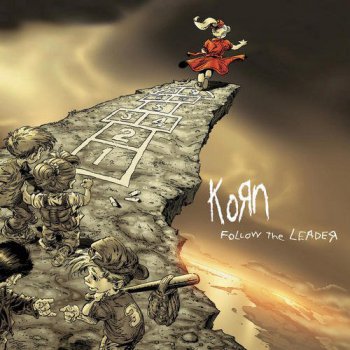 Artist: Korn
Title Of Album: Follow the Leader
Year Of Release: 2016 [1998]
Label: Immortal/Epic
Country: United States
Genre: Nu Metal, Alternative Metal
Quality: FLAC (tracks)
Bitrate: Lossless [192kHz/24bit]
Time: 67:13
Full Size: 2.67 gb
Upload: Turbobit
Follow the Leader is the third studio album by the American nu metal band Korn. The album was released on August 18, 1998, through Immortal/Epic. This was their first album not produced by Ross Robinson. Instead, it was produced by Steve Thompson and Toby Wright.

The album peaked at number one on four charts, including the Billboard 200 with 268,000 units sold in its first week of release, and is often credited with launching nu metal into the mainstream. The album received a 5× Platinum certification in the United States on March 15, 2002 as well as a 3× Platinum in Australia and Canada. Its singles "Got the Life", and "Freak on a Leash", both charted on more than three charts, and their music videos are considered to be the first music videos retired from MTV, most notably the MTV show "Total Request Live". The album generally received positive reviews by critics. Korn was praised by AllMusic saying the album is "an effective follow-up to their first two alt-metal landmarks."

The Family Values Tour promoted the album, along with its five singles. The song "Freak on a Leash" was nominated for nine MTV Video Music Awards, and won for the Best Rock Video award, as well as Best Editing.[6] The music video for "Freak on a Leash" won Best Short Form Music Video at the 2000 Grammy Awards.[8] Follow the Leader has sold over 7 million copies in the US according to Nielsen SoundScan as of January 4, 2013 and over 14 million copies worldwide, making it Korn's most successful album.
TRACKLIST:
01. It's On!
02. Freak On a Leash
03. Got the Life
04. Dead Bodies Everywhere
05. Children of the Korn
06. B.B.K.
07. Pretty
08. All In the Family
09. Reclaim My Place
10. Justin
11. Seed
12. Cameltosis
13. My Gift to You
14. Earache My Eye
Jonathan Davis – vocals, bagpipes
Head – guitar
Munky – guitar
Fieldy – bass guitar
David Silveria – drums
Additional Musicians
Fred Durst – vocals
Tre Hardson – vocals
Ice Cube – vocals
Cheech Marin - vocals
:: DOWNLOAD LINKS :: СКАЧАТЬ ::
Внимание! У Вас нет прав для просмотра скрытого текста.
Изменил: artmuss по причине: Re-Up