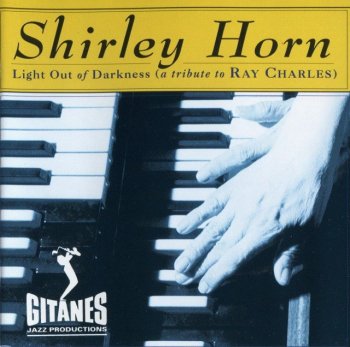 Artist: Shirley Horn
Title Of Album Light Out Of Darkness
Year Of Release: 1993
Label (Catalog#) : Verve [519 703-2]
Country: USA
Genre: Jazz, Blues, Vocal, Soul-Jazz
Quality: FLAC (image + cue,log)
Bitrate: Lossless
Total Time: 01:03:21
Total Size: 329mb(+3%)(cover)

AllMusic Review by Scott Yanow
For this change of pace, singer/pianist Shirley Horn performs 15 songs associated with Ray Charles. Of course, Horn sounds nothing like Charles, but she sometimes captures his spirit on such songs as "Hit the Road, Jack," "You Don't Know Me" (which finds her switching to organ), "Makin' Whoopee" and "How Long Has This Been Going On." Joined by her regular trio (with bassist Charles Ables and drummer Steve Willliams), some of the songs have Ables switching effectively to guitar, while Tyler Mitchell fills in on bass. Altoist Gary Bartz guests on five of the dozen selections. While emphasizing ballads, as one always expects, this is a fun set that includes more medium-tempo tunes than usual for a Shirley Horn set.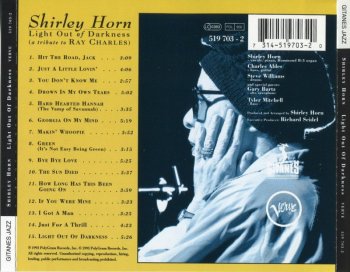 Tracklist
---------
01. "Hit the Road Jack" (Percy Mayfield) – 3:11
02. "Just a Little Lovin'" (Eddy Arnold, Zeke Clements) – 4:07
03. "You Don't Know Me" (Arnold, Cindy Walker) – 2:58
04. "Drown in My Own Tears" (Henry Glover) – 5:04
05. "Hard Hearted Hannah" (Milton Ager, Charles Bates, Bob Bigelow, Jack Yellen) – 3:36
06. "Georgia on My Mind" (Hoagy Carmichael, Stuart Gorrell) – 5:20
07. "Makin' Whoopee" (Walter Donaldson, Gus Kahn) – 3:54
08. "Bein' Green" (Joe Raposo) – 3:16
09. "Bye Bye Love" (Felice and Boudleaux Bryant) – 5:26
10. "The Sun Died" (Ray Charles, Hubert Giraud, Anne Gregory, Pierre Delano?) – 5:39
11. "How Long Has This Been Going On?" (George Gershwin, Ira Gershwin) – 4:01
12. "If You Were Mine" (James Lewis) – 3:25
13. "I Got a Man" (Charles, Renald Richard) – 3:25
14. "Just for a Thrill" (Lil Armstrong, Don Raye) – 4:25
15. "Light Out of Darkness" (Charles, Rick Ward) – 5:25

Personnel:
---------
Shirley Horn – piano, vocals, producer
Gary Bartz – alto saxophone
Charles Ables – guitar, electric bass
Tyler Mitchell – double bass
Steve Williams – drums
The Hornettes – vocal ("Hit the Road Jack")

All thanks to original releaser
Внимание! У Вас нет прав для просмотра скрытого текста.
Изменил: sirk по причине: RE-UP