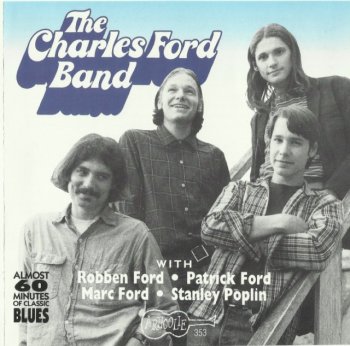 Artist:The Charles Ford Band
Title Of Album:The Charles Ford Band
Year Of Release:1972[1991]
Label (Catalog#) :Arhoolie[CD-353]
Country:: USA
Genre: Blues
Quality: FLAC (image + cue,scans)
Bitrate: Lossless
Time: 00:58:57
Full Size: 323mb(+3%)

AllMusic Review by Dan Forte
Recorded after the quartet had packed it in, their sole vinyl document inevitably left much to be desired for anyone who'd witnessed their through-the-roof club appearances. Still, the expressive opener, "Blue and Lonesome," manages to create a space of its own, avoiding comparisons with Little Walter's original. Middle brother Robben's expressive vocals defy his 20 years, and his Bloomfield-inspired guitar playing is even more authoritative. Meanwhile harmonica-playing Mark, only age 18, gives Butterfield a run for his money. A later CD reissue gives a glimpse at the band's jazz leaning with a live rendition of John Coltrane's "The Promise."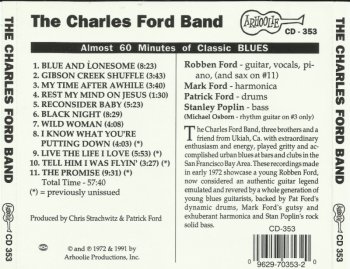 Tracks:
-------
01. Blue And Lonesome (Walter Jacobs) - 8:23
02. Gibson Creek Shuffle (Robben Ford) - 3:43
03. My Time After Awhile (Geddins, Badger) - 3:40 ***
04. Rest My Mind On Jesus (Robben Ford) - 1:30
05. Reconsider Baby (Lowell Fulson) - 5:23
06. Black Night (Jesse Mae Robinson) - 8:29
07. Wild Woman (Albert King) - 4:08
08. I Know What You're Putting Down (Jordan, Allen) - 4:03
09. Live The Life I Love - 5:53
10.Tell Him I Was Flyin' - 3:27
11.The Promise (John Coltrane) - 9:31

Personnel:
---------
Robben Ford - Guitar, Vocals, Piano
Mark Ford - Harmonica
Patrick Ford - Drums
Stanley Poplin - Bass
Michael Osborn - Rhythm Guitar***
Внимание! У Вас нет прав для просмотра скрытого текста.
Изменил: sirk по причине: RE-UP