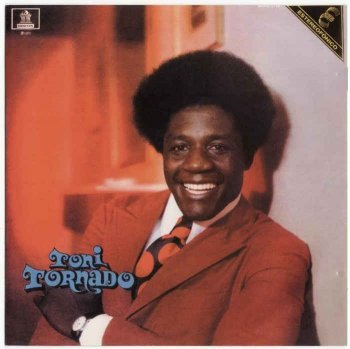 Artist: Toni Tornado
Title Of Album: Toni Tornado
Year Of Release: 1972/2002
Label (Catalog#): EMI Music [542317 2]
Country: Brazil
Genre: Funk / Soul, Jazz, Latin
Quality: FLAC (tracks +.cue,log)
Bitrate: Lossless
Time: 26:37 min
Full Size: 175 mb
Upload: Turbobit
Reissued alongside its predecessor in 2002 as part of EMI/Odeon's wonderful 100th anniversary series, Toni Tornado's sophomore, self-titled release doesn't quite keep the same high standards of B.R.3, but certainly defies the majority of funk and soul albums of the time in excitement and experimentation. At its best, Toni Tornado is precisely on par with B.R.3, boasting heavy drums, complex melodic structure, Tornado's strong vocals, and inspired arrangements of rich baritone saxophones, brass sections, and strings, but in a few cases (as in the straightforward blues number "N?o Grile a Minha Cuca") the songs just aren't as consistently interesting as the entirety of the previous album. In line with the glorious album cover of a very smiling Toni Tornado lounging in his red sport coat and polka dot tie, Tornado is definitely having more fun with this album. The weird but wonderful novelty "Torniente," a minute-long funk groove complete with a coughing solo, proves this as does the dynamic "Sinceridade" with the lush female backing vocals — which also tied B.R.3 together — and extraordinary organ freak-outs. Tornado hides nothing of his fascination with James Brown on "Aposta," but at least when Tornado borrows all of Brown's trademarks, he pulls them off well and with complete sincere conviction — as more of a tip of the hat rather than blatant thievery. The gorgeous and spiritual "Uma Id?ia" begins the trilogy of splendid closing tracks, emitting the presence of Philly and Memphis soul mixed with American gospel and popular Brazilian music (MPB), which developed after the bossa nova movement in the '50s. The album closes with "Tornado," sung in English, where Tornado calls upon his audience to try his new dance over a heavy yet sunny groove akin to Archie Bell & the Drells' hit "Tighten Up," which proves that Tornado was as talented as his American counterparts.
TRACKLIST:
1 Mane Beleza
2 Nao Grile A Minha Cuca
3 Torniente
4 Eu Duvido Muito
5 Sinceridade
6 Podes Crer Amizade
7 Aposta
8 Bochechuda
9 Uma Ideia
10 Eu Tenho Um Som Novo
11 Tornado
:: DOWNLOAD LINK ::
Внимание! У Вас нет прав для просмотра скрытого текста.
:: MusicMuss ::