Artist: Red Garland Trio
Title Of Album Groovy
Year Of Release:1957/1999
Label (Catalog#) : Prestige [PRCD-7113-2]
Country: USA
Genre: Jazz
Quality: FLAC (image + cue,log)
Bitrate: Lossless
Total Time: 00:40:13
Total Size: 210mb(+3%)(covers)

AllMusic Review by Michael G. Nastos
Red Garland's third recording as a leader has him playing very well, somewhat energetic and more inclusive in his direction to span the mainstream jazz palate beyond the cool exterior he emanates. The title might be a bit deceptive, for this is not a project where soul-jazz or early boogaloo influences turned jazzmen into groovemeisters -- it's a swinging groove. With bassist Paul Chambers and drummer Art Taylor, Garland has all the support he needs to wing it in a variety of directions. Recorded in that most legendary year of jazz, 1957, Garland is coming into his own in a more confident way, buoyed by his association at the time with Miles Davis. Chambers is flawless in his support role, and on this recording deserves a close listen, especially for students of the acoustic upright. They immediately dig in on the opener "C Jam Blues," with Garland at his heartiest during his bridge solo, they agree in the affirmative during the entirety of the hard bop take of "Will You Still Be Mine?," and repeat but modify the melody à la "Cool Blues" in an adept display of artistry for "Hey Now." Of course Garland has to play a ballad or two, as on "Willow Weep for Me," luscious with chord sequences, and really reflects the influence of Erroll Garner in that chiming, two-handed sustenato style for Garner's "Gone Again." It is said that by the third recording, most musicians should have their style down pat and begin attempting to take the music to a higher level. You really hear that in this recording, which was a springboard to making Red Garland one of the most revered and respected jazz pianists of the modern era.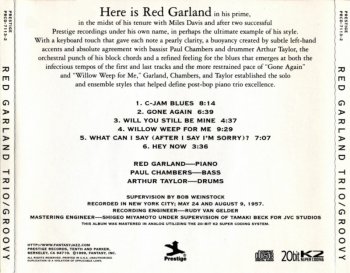 Tracks:
------
01."C-Jam Blues" (Barney Bigard, Duke Ellington) – 8:21
02. "Gone Again" (Curtis Lewis, Curley Hamner, Gladys Hampton) – 6:46
03. "Will You Still Be Mine?" (Matt Dennis, Tom Adair) – 4:43
04. "Willow Weep for Me" (Ann Ronell) – 9:35
05. "What Can I Say, Dear" (Walter Donaldson, Abe Lyman) – 7:14
06"Hey Now" (Red Garland) – 3:41

Personnel:
---------
Red Garland – piano
Paul Chambers – bass
Art Taylor – drums

Notes:
Remastering Information: "This album was mastered in analog utilizing the 20-Bit K2 Super Coding System." This is essentially a digital control system for an analog master tape machine. The final product is then encoded at 20-bits (128x oversampling) and downsampled to 16-bits for CD by JVC's proprietary Super Coding system. The remaster was engineered by Shigeo Miyamoto under the supervision of Tamaki Beck for JVC Studios.

Originally released on Prestige as "Groovy" (PRLP 7113) in 1957.

Recorded in New York City; May 24 and August 9, 1957 by Rudy Van Gelder under the supervision of Bob Weinstock.

All thanks to original releaser
Внимание! У Вас нет прав для просмотра скрытого текста.