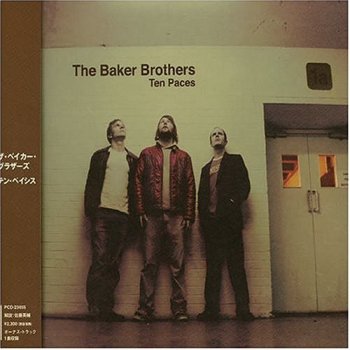 Artist: The Baker Brothers
Title Of Album: Ten Paces
Year Of Release: 2003
Label (Catalog#): Arse Records [BIGARSE01CD]
Country: UK
Genre: Soul-Jazz, Funk, Fusion
Quality: FLAC (tracks,cue)
Bitrate: Lossless
Time: 56:03
Full Size: 387 mb
Upload: Turbobit
Funky music just got even better – as the Baker Brothers take things to the next level! This totally great debut set has a really amazing approach to funk – kind of a non-stop, no-holds-barred style that rips away with a sound that's fiercer and stronger than even most other groups in the current deep funk underground! The Baker Brothers strip down the sound to really focus on hard drums, heavy guitars, and sweet Fender Rhodes! One track will rip with a searing guitar bit, the next with soar with some floating keyboard solos, and the next will dive down with some totally heavy beats. These guys are young, British, and totally funky – and from where this album sits, they should have the world at their feet! Titles include "Little Suns", "Ziggifried", "Maid Of Mars", "Breathing In", "Green Goddess", and "Givson".
:: TRACKLIST ::
1 Ready...Aim... 4:56
2 Givson 4:21
3 Green Goddess 5:04
4 Who Killed The Southbarrow Peacock? 4:21
5 Paste 4:16
6 Little Suns 6:01
7 Ziggifried 5:32
8 Barrington's Groove 4:45
9 Chester's Tongue 5:31
10 Maid Of Mars 5:16
11 Breathing In 5:50
:: DOWNLOAD LINK ::
Внимание! У Вас нет прав для просмотра скрытого текста.
:: MusicMuss ::