Artist
: John Coltrane
Title Of Album
: Coltrane '58: The Prestige Recordings
Year Of Release
: 2019
Label (Catalog#)
: Craft Recordings
Country
: US
Genre
: Jazz
Quality
: FLAC (*tracks)
Bitrate
: 24 Bit/48 kHz
Time
: 05:38:02
Full Size
: 3,91 GB (+3%rec.)
WebSite
:
amazon.com
Coltrane's breakout year, when his mature sound first grabbed ears and his own recordings began to sell consistently, was 1958. This release chronicles the exciting story session by session, featuring all 37 tracks Coltrane recorded as a leader or co-leader for the independent Prestige Records label in those twelve months. This collection captures him in creative high gear—developing the signature improvisational style that journalist Ira Gitler famously dubbed "sheets of sound."
The timely release marks the 70th year since the founding of Prestige and comes just after the 60th anniversary of these recordings.
Includes eight 180-gram LPs, remastered from the original analog tapes by Paul Blakemore (all of which were recorded by renowned engineer Rudy Van Gelder) and cut by Clint Holley from 24-bit/192kHz transfers. The lavish, linen-wrapped, portfolio-style book features an eye-catching design and 40 pages containing extensive liner notes by Grammy-winning American music historian Ashley Kahn, rare ephemera and historical photographs of the saxophonist and his collaborators, including several taken by renowned jazz photographers Francis Wolff and Esmond Edwards.
Tracks:
DISC ONE
Side A
1. Lush Life
2. Come Rain or Come Shine
Side B
1. The Believer
2. Nakatini Serenade
DISC TWO
Side A
1. Lover
2. Russian Lullaby
3. Theme for Ernie
4. You Say You Care
Side B
1. Good Bait
2. I Want to Talk About You
DISC THREE
Side A
1. Lyresto
2. Why Was I Born
3. Freight Trane
4. I Never Knew
Side B
1. Big Paul
2. I See Your Face Before Me
DISC FOUR
Side A
1. Rise and Shine
2. Little Melonae
Side B
1. If There Is Someone Lovelier Than You
2. By the Numbers
DISC FIVE
Side A
1. Black Pearls
2. Lover Come Back to Me
Side B
1. Sweet Sapphire Blues
DISC SIX
Side A
1. Spring Is Here
2. Invitation
Side B
1. I'm a Dreamer (Aren't We All)
2. Love Thy Neighbor
DISC SEVEN
Side A
1. Don't Take Your Love From Me
2. Stardust
Side B
1. My Ideal
2. I'll Get By (As Long as I Have You)
3. Do I Love You Because You Are Beautiful
DISC EIGHT
Side A
1. Then I'll Be Tired of You
2. Something I Dreamed Last Night
Side B
1. Bahia
2. Goldsboro Express
3. Time After Time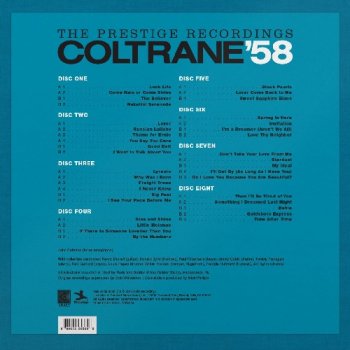 Download:
turbobit.net-1
turbobit.net-2
Isra.Cloud-1
Isra.Cloud-2