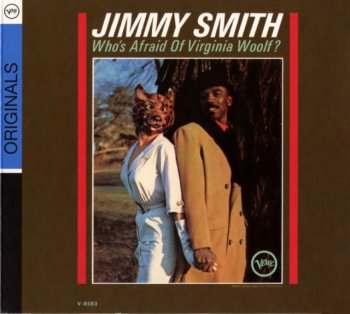 Artist: Jimmy Smith
Title Of Album Who's Afraid Of Virginia Woolf?
Year Of Release: 1964/2007
Label (Catalog#) : Verve [0602517396937]
Country: USA
Genre: Jazz / Soul Jazz,Hard Bop
Quality: FLAC (tracks+cue,log)
Bitrate: Lossless
Total Time: 00:35:06
Total Size: 258mb(+3%)(covers)

AllMusic Review by Michael G. Nastos
The combination of organist Jimmy Smith teamed with Oliver Nelson's big band featuring Nelson and Claus Ogerman's arrangements has arguably yielded mixed results. "Walk on the Wild Side" is probably the most acclaimed and potent of the pairings, while "Who's Afraid of Virginia Woolf?" produces more questions than answers. The music tends to be corny and overly dramatic, based in soul-jazz and boogaloo; it's dated even for this time period (1964) and a bit bland. Disparate elements clash rather than meld, the title track and "Slaughter on Tenth Avenue" being perfect examples. If you can get beyond the hokey 007 theatrics, patriotic splashes, and sleigh bells, you do hear Smith jamming. Typical repeated two-note accents heard from the big band behind Smith do not urge him upwards -- during "Pts. 1 & 2" of the title track, this specific element identifies and bogs down the piece -- but the quicker second segment is a better, carefree, post-bop boogaloo. Smith is left behind on the melody of "Women of the World," and is submerged on "Slaughter." Of the more substantive material, Smith leads on the breezy waltz "Wives & Lovers," and thankfully gets to strut his stuff for "John Brown's Body," with the big band in the background. The very best is left for last on a classic take of "Bluesette," another waltz where the horns accent and chatter, flutes soar, and Smith flies. A curiosity in his discography, for some an "experiment" that never worked, and for others an interesting aside, one wonders what Smith really thought of this project after the fact, considering his far greater works.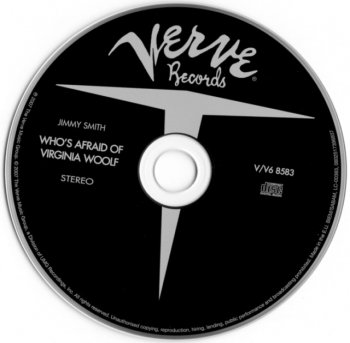 Tracklist
---------
01. "Slaughter on Tenth Avenue" (Richard Rodgers) – 7:06
02. "Who's Afraid of Virginia Woolf?, Pt. 1" (Don Kirkpatrick, Keith Knox) – 4:29
03. "Who's Afraid of Virginia Woolf?, Pt. 2" (Kirkpatrick, Knox) – 5:00
04. "John Brown's Body" (Traditional) – 5:18
05. "Wives and Lovers" (Burt Bacharach, Hal David) – 3:17
06. "Women of the World" (Riziero Ortolani) – 5:47
07. "Bluesette" (Toots Thielemans) – 3:40

Personnel:
------
Jimmy Smith - organ
Oliver Nelson - arranger, conductor

Notes:
Recorded in New York on Jan. 20, 21 & 27, 1964.

All thanks to original releaser
Внимание! У Вас нет прав для просмотра скрытого текста.
Изменил: sirk по причине: RE-UP