Artist: Gonzalez
Title Of Album: Gonzalez
Year Of Release: 1974/2009
Label (Catalog#) : Air Mail [AIRAC-1542]
Country: UK
Genre: Jazz-Funk Latin Soul, Brass Rock
Quality: FLAC (*tracks + .cue,log)
Bitrate: Lossless
Total Time: 01:06:26
Total Size: 426mb(+3%)(covers)
Artist Biography by Steve Huey
Gonzalez was a loosely knit, British-based aggregate with a revolving-door membership of anywhere from 10 to 30 players. Their specialty was a mostly instrumental melange of funk, jazz, soul, and (later) disco, though they did employ vocalists for selected tracks on most of their albums. Their core early membership consisted of saxophonists Mick Eve, Chris Mercer, and Geoffrey "Bud" Beadle, keyboardist Roy Davies, and guitarist Gordon Hunte; collectively, their previous credits included Georgie Fame's Blue Flames, Juicy Lucy, John Mayall, Keef Hartley, and the Night-Timers, among others. First convening in 1971, Gonzalez grew to include bassist DeLisle Harper, trumpeter Ron Carthy, saxophonist Steve Gregory, drummers Richard Bailey and Glen LeFleur, and vocalist George Chandler (among others) by the time they released their self-titled debut album on EMI-Capitol in 1974. Cuts like "Funky Frith Street" and the Latin-tinged "Saoco" later became popular among connoisseurs of obscure funk. The follow-up, Our Only Weapon Is Our Music, appeared in 1975 and featured new members in guitarist/vocalist Lenny Zakatek, trombonist Colin Jacas, guitarist Robert Ahwai, bassist Larry Steele, percussionist Bobby Stignac, and singer Viola Wells. Material from Gonzalez' first two albums was later reissued on CD, both by See for Miles and Soul Brother.

The band's third album, Shipwrecked, appeared in 1977, and was produced by soul singer Gloria Jones. Two years after the fact, the band's version of Jones' "Haven't Stopped Dancing Yet" became a hit in the U.K., leading to the album's reissue under the title Haven't Stopped Dancin'. Jones also produced their follow-up, 1979's Move It to the Music, by which time Eve and Hunte were gone; the single "Ain't No Way to Treat a Lady" was an unsuccessful attempt to duplicate the wide appeal of "Haven't Stopped Dancing Yet." After one more album, 1980's Watch Your Step, Gonzalez found themselves without a major-label deal; during the '80s, they recorded singles for PRT and Tooti Fruiti, with many more shifts in personnel. They finally disbanded for good in 1986 following the death of Davies.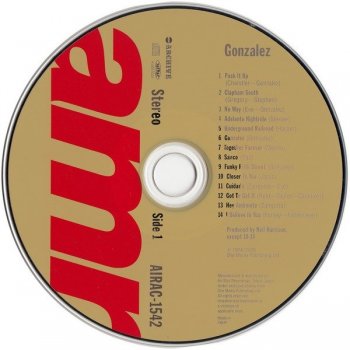 Tracks:
-------
01. Pack It Up (George Chandler, Gonzalez) - 4:25
02. Clapham South (Steve Gregory) - 4:05
03. No Way (Michael Eve, Gonzalez) - 3:30
04. Adelanto Nightride (Chris Mercer) - 3:30
05. Underground Railroad (Lisle Harper) - 3:58
06. Gonzalez (Gonzalez) - 4:59
07. Together Forever (Roy Davis) - 5:40
08. Saoco (Ramon Paz) - 6:45
09. Funky Frith Street (Gonzalez) - 1:33
10. Closer To You (Colin Jacas) - 7:05
11. Cuidado (Zangolza, Michael Eve) - 7:02
12. Got It get It (E. Reid, R. taylor, T.J. Cansfield) - 5:06
13. Hey Ambeinte (Zangolza) - 3:32
14. I Believe In You (Keith Forsey, H. Faltermeier) - 5:16

Personnel:
---------
Michael Eve - Tenor Sax
Chris Mercer - Tenor, Alto, Baritone, Electric Saxes
Steve Gregory - Flute, Soprano, Alto, Tenor Saxes
Roy Davis - Fender Piano, Clavinet, Piano
Ron Carthy - Trumpet
Colin Jacas - Vocals, Trombone
Jeff Beadle - Flute, Soprano, Baritone Saxes
Lisle Harper - Bass Guitar
Larry Steele - Bass, Vocals
John Giblin - Bass Guitar
Gordon Hunte - Lead Guitar
Robert Ahwai, Steve Waller - Guitar
Glenn Lefleur, Preston Heyman - Drums
Alan Sharpe - Congas, Assorted Percussion
Richard Bailey - Drums, Timbales
Bobby John - Congas, Assorted Percussion
Bobby Stignac - Congas, Timbales
George Chandler, Lenny Zakatec - Vocals

All thanks to original releaser
Внимание! У Вас нет прав для просмотра скрытого текста.