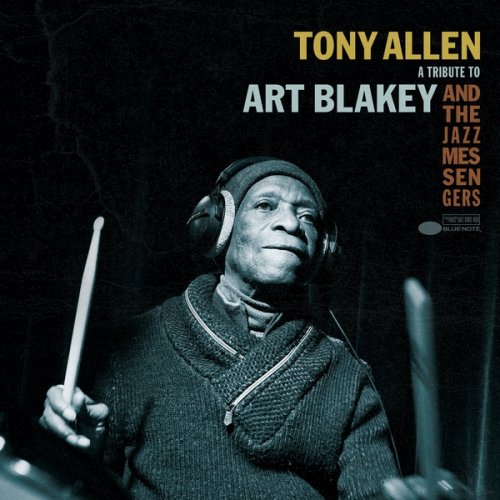 Artist: Tony Allen
Title Of Album: A Tribute to Art Blakey and the Jazz Messengers
Year Of Release: 2017
Label (Catalog#) : Blue Note
Country: Nigeria/France
Genre: Jazz, Hard Bop
Quality: FLAC (*tracks)
Bitrate: Lossless
Total Time: 24:32
Total Size: 157Mb
The EP was recorded live in Allen's current hometown of Paris and features a fiery 7-piece band interpreting the Jazz Messengers classics "Moanin'," "A Night In Tunisia," "Politely" and "Drum Thunder Suite" through an Afrobeat prism. The EP was produced by Vincent Taurelle, whose production credits also include Allen's previous album Film of Life.
While American jazz—in particular the recordings of Blakey and Max Roach—had a big impact on Allen during his early musical development in Nigeria, the music of Africa was also hugely influential for Blakey (aka Abdullah Ibn Buhaina) throughout his career. In the late-1940s Blakey spent time traveling abroad in West Africa exploring the culture, religion, and of course, the drumming. Blakey later recorded several albums that were heavily influenced by African music including Orgy in Rhythm (1957), Holiday for Skins (1958), and The African Beat (1962), which featured the Nigerian drummer and percussionist Solomon Ilori.
Tracks:
-------
1. Moanin' [Bobby Timons] - 5:02
2. Night In Tunisia [Dizzy Gillepsie, Frank Paparelli] - 6:06
3. Politely [Bill Hardman] - 6:41
4. The Drum Thunder Suite [Art Blakey] - 6:45

Personnel:
---------
Tony Allen: drums;
Mathias Allamane: bass;
Jean-Philippe Dary: piano;
Nicolas Giraud: trumpet;
Daniel Zimmermann: trombone;
Yann Jankielewicz: tenor saxophone;
Rémi Sciuto: baritone saxophone, alto saxophone, sopranino saxophone;
Jean-Jacques Elangué: tenor saxophone.

All thanks to original releaser
Внимание! У Вас нет прав для просмотра скрытого текста.