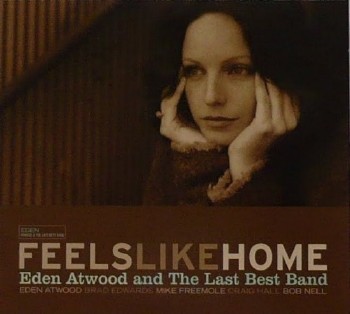 Artist: Eden Atwood and the Last Best Band
Title Of Album: Feels Like Home
Year Of Release: 2003
Label: Concord
Genre: Vocal Jazz
Quality: Flac (tracks+log+covers)
Bitrate: Lossless
Total Size: 337 MB (recovery 5%)

Tracklist:
1. Satisfaction (Jagger-Richards) 5:07
2. Ain't Got Nothin' But the Blues (Ellington) 4:10
3. Softly As in a Morning Sunrise (Romburg-Hammerstein) 4:07
4. A Felicidade (Jobim-Demoraes-Eden Atwood) 5:29
5. God Bless the Child (Herzog-Holiday) 5:53
6. Puppet Man (Sedaka-Greenfields) 4:28
7. Chega de Saudade (Jobim-Hendricks-Cavanaugh) 6:02
8. The Nearness of You (Carmichael) 5:33
9. Never Make Your Move Too Soon (Hooper-Jennings)
Personnel:
Eden Atwood, vocal & percussion
Bob Nell, piano
Craig Hall, guitar & vocal
Mike Freemole, bass
Brad Edwards, drums & percussion
Внимание! У Вас нет прав для просмотра скрытого текста.
The CD was masterfully recorded once again by Brad Edwards of Woods Recording, who attained the live sound by first taping the band live at the Emerson Cultural Center in Bozeman, then capturing Eden's vocals in his Billings studio. Unlike many of today's popular recordings that can take months, if not years, to perfect, "Feels Like Home" was put together in a total of three days last May.
And unlike most jazz recordings, Eden isn't afraid to multi-track her vocals if called for, such as on "Baby, I Love You" or Antonio Carlos Jobim's "A Felicidade," a selection that would have fit nicely on her "Bossa Nova Session." She loosely translated the original Portuguese into English to great effect. Hall provides some nice Brazilian guitar work as well. The other Jobim selection, "Chega de Suadade," looks like the lyrics were reworked by the legendary John Hendricks.
Pianist Bob Nell provides several excellent solos that are proof that his past awards were no fluke. On songs such as "Softly As In a Morning Sunrise" and "Puppet Man," he really cuts loose. While Freemole and Edwards don't have any solo spots, they don't really need to, providing vibrant and versatile performances throughout.
But as "best" as this band may be, it is Eden Atwood whose sexy, smoky voice carries the material (e.g., "Billie Holiday's "God Bless the Child") and whose lovely image graces the vintage packaging. In this day and age of multiple Grammy Awards going to the unseasoned neo-jazz artist Norah Jones, a still young and attractive but well-seasoned jazz vocalist such as Eden Atwood could go far toward winning those awards if she was willing to play the music biz games. But right now, she seems content to make the music that she personally enjoys, and her fans in Montana are the real winners in that decision.
~ Scott Prinzing