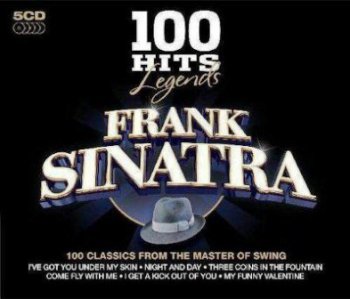 Исполнитель:
Frank Sinatra
Название альбома:
100 Hits Legends
Жанр:
Retro / Blues
Год выпуска:
2009
Кол-во CD:
5
Формат:
FLAC
Продолжительность:
05:00:03
Размер:
1,17 ГБ
Залито на:
Letitbit, Shareflare , Vip-File
Треклист:
Disc: 1
1. I've Got You Under My Skin
2. I Get A Kick Out Of You
3. Come Fly With Me
4. Love And Marriage
5. Young At Heart
6. You Make Me Feel So Young
7. Three Coins In The Fountain
8. April In Paris
9. Lover
10. A Foggy Day (In London Town)
11. My Funny Valentine
12. Old Devil Moon
13. Just One Of Those Things
14. I Guess I'll Have To Dream The Rest
15. Learnin' The Blues
16. Too Marvellous For Words
17. Taking A Chance On Love
18. You're Getting To Be A Habit With Me
19. Mood Indigo
20. It Happened In Monteray
Disc: 2
1. (Love Is) The Tender Trap
2. Anything Goes
3. I've Got The World On A String
4. I Thought About You
5. They Can't Take That Away From Me
6. Last Night When We Were Young
7. I Get Along Without You Very Well
8. Love Is Here To Stay
9. Makin' Whoopee
10. Jeepers Creepers
11. The Gal That Got Away
12. Don't Worry `Bout Me
13. How About You?
14. Pennies From Heaven
15. Violets For Your Furs
16. The Girl Next Door
17. From Here To Eternity
18. Someone To Watch Over Me
19. You Brought A New Kind Of Love To Me
20. When You're Smiling (The Whole World Smiles With You)
Disc: 3
1. Well Did You Evah?
2. The Birth Of The Blues
3. Begin The Beguine
4. Some Enchanted Evening
5. Bye Bye Baby
6. You're Sensational
7. Who Wants To Be A Millionaire?
8. Nancy (With The Laughing Face)
9. What Is This Thing Called Love?
10. I Could Write A Book
11. I'm A Fool To Want You
12. You Do Something To Me
13. Should I (Reveal)
14. London By Night
15. I Am Loved
16. Deep Night
17. Hello Young Lovers
18. It All Depends On You
19. Dancing On The Ceiling
20. In The Wee Small Hours Of The Morning
Disc: 4
1. Night And Day
2. I Got Plenty O'Nuttin'
3. I Guess I'll Have To Change My Plan
4. Nice Work If You Can Get It
5. I Couldn't Sleep A Wink Last Night
6. The End Of A Love Affair
7. From This Moment On
8. If I Had You
9. Stars Fell On Alabama
10. You'd Be So Nice To Come Home To
11. It's Easy To Remember
12. Baby, Won't You Please Come Home?
13. I Won't Dance
14. We'll Be Together Again
15. I Cover The Waterfront
16. Laura
17. South Of The Border
18. Rain (Falling From The Skies)
19. I Got It Bad And That Ain't Good
20. Autumn Leaves
Disc: 5
1. One For My Baby (And One More For The Road)
2. All Of Me
3. Let's Take An Old-Fashioned Walk
4. What'll I Do?
5. But Beautiful
6. I've Got A Crush On You
7. Almost Like Being In Love
8. Once In Love With Amy
9. We Kiss In A Shadow
10. I Hear A Rhapsody
11. The Song Is You
12. My Romance
13. The Coffee Song
14. The Things We Did Last Summer
15. Oh, What It Seemed To Be
16. They Say It's Wonderful
17. That Old Black Magic
18. Five Minutes More
19. Mam'selle
20. You'll Never Walk Alone
Внимание! У Вас нет прав для просмотра скрытого текста.