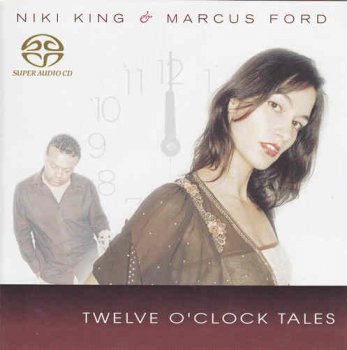 Artist: Niki King & Marcus Ford
Title Of Album: Twelve O' Clock Tales
Year Of Release: 2007
Label (Catalog#): Master Music [MARSA 60012]
Country: Scotland
Genre: Vocal Jazz
Quality: FLAC (tracks,scans)
Bitrate: Lossless [88.2kHz/24bit]
Time: 46:06
Full Size: 854 mb
Upload: Turbobit
Niki King and Marcus Ford have become established as one of Scotland's most high profile jazz duos with sell-out concerts at both the Edinburgh and Glasgow International Festivals. They have also performed internationally including concerts in Germany, Japan, Switzerland, China and Italy.
Niki King won the Perrier Jazz vocal award 2001 and was further nominated for the prestigious spirit of Scotland Award and International Young Jazz Vocalist in Brussels 2005. As a solo artist she has supported Al Green and the Average White Band and with her incredible vocal range and stage persona she is considered one of the UK's most exciting new vocalists.
Marcus Ford is considered one of Scotland's leading accompanists and is famed for his unique ability to work within many genres. His ability to perform as both a driving rhythm player and sensitive fingerstyle guitarist has won him growing acclaim from both fans and critics alike.
'Azure' is Niki King's debut album on the award winning jazz label Caber Music. This CD captures the immense talents of a vocalist who, in only a matter of time, is going to be a big star.
Over the years Scottish singer/songwriter Niki King has collaborated with many great musicians, producers, writers and vocalists throughout a broad spectrum of music. Drawing from her varied musical influences she uses her versatility as a singer and writer within musical styles such as funk, soul, jazz, latin, hip-hop and deep house. In 2001 Niki King won the Perrier Award for Young Jazz Vocalist of the Year. Following on from this, she was nominated for the prestigious 'Spirit of Scotland Music Award 2001', in which she won a runner up medal, coming second in the open public vote to Travis.
After Radio One DJ and Talkin' Loud creator Gilles Peterson heard Niki King, he introduced her to 'Bluey' Maunick of Incognito fame. She went on to co-write and feature on his Para:diso album and then to release her debut album 'New day' on his label Rice Records with a live launch at the Blue Note, Tokyo in December 2001.
TRACKLIST:
01. When Sunny Gets Blue (4:07)
02. Always on my Mind (2:58)
03. Tenderly (2:51)
04. In the Name of Love (3:21)
05. Lush Life (4:43)
06. Until It's Time for you to go (3:39)
07. Here's that Rainy Day (2:22)
08. Dindi (2:32)
09. Lately (3:17)
10. Round Midnight (3:33)
11. My Man (4:59)
12. My Shining Star (2:46)
13. Once I Loved (2:52)
14. Amazing Grace (2:38)
:: DOWNLOAD LINK ::
Внимание! У Вас нет прав для просмотра скрытого текста.
:: MusicMuss ::
Изменил: artmuss по причине: Re-Up