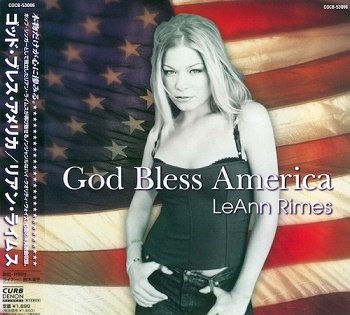 Artist:
LeAnn Rimes
Title Of Album:
God Bless America (Japan Edition)
Release Date:
2001
Location:
USA
Label:
Curb Denon Records (COCB-53006)
Genre:
Country, Pop
Quality:
APE (image+.cue+covers)
Length:
32:36 min
Tracks:
10
Total Size:
206 MB (+5%)
God Bless America is the second compilation album from American recording artist LeAnn Rimes. The album was released on October 16, 2001. The album comprises patriotic and inspirational songs that were originally recorded on her You Light Up My Life: Inspirational Songs album (tracks one, two, eight and ten), as well as songs from her commercial album, All That (tracks five, seven and nine), under the independent label, Nor Va Jak, although "Why Can't We" and "Middle Man" are both re-recordings. "Put a Little Holiday in Your Heart" was originally released as a bonus single, with the song "Unchained Melody", alongside Blue at Target during the 1996 Christmas season. The only two new songs that were released on the album were "The Lord's Prayer" and "The Sands of Time". The album was released as a patriotic tribute to the events of September 11, 2001, with the liner stating "These classic recordings were made while America was first discovering LeAnn Rimes."
Tracklist:
01. God Bless America
02. National Anthem
03. The Lord's Prayer
04. The Sands Of Time
05. Why Can't We
06. Put A Little Holiday In Your Heart
07. Middle Man
08. I Believe
09. A Broken Wing
10. Amazing Grace
Password:
MorPeh
Download