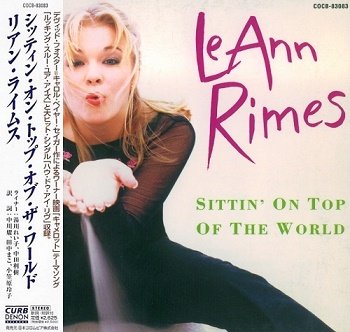 Artist:
LeAnn Rimes
Title Of Album:
Sittin' On Top Of The World (Japan Edition)
Release Date:
1998
Location:
USA
Label:
Curb Denon Records (COCB-83083)
Genre:
Country, Pop
Quality:
APE (image+.cue+covers)
Length:
01:05:32 min
Tracks:
16
Total Size:
424 MB (+5%)
Sittin' on Top of the World is the third studio album by American country singer LeAnn Rimes, released in the United States on May 5, 1998, by Curb Records. The album has been certified Platinum. It contains cover versions of "Insensitive" by Jann Arden, "Sittin' on Top of the World" by Amanda Marshall, "Purple Rain" by Prince, and "Rock Me (In the Cradle of Love)" by Deborah Allen. The album also includes two singles which were released to country radio: "Commitment" and "Nothin' New Under the Moon".
Tracklist:
01. How Do I Live (Bonus Track)
02. Commitment
03. Looking Through Your Eyes
04. Undeniable
05. Feels Like Home
06. Surrender
07. These Arms Of Mine
08. Nothin' New Under The Moon
09. When Am I Gonna Get Over You
10. Rock Me
11. More Than Anyone Deserves
12. Insensitive
13. All The Lovin' And Hurtin'
14. Sittin' On The Top Of The World
15. The Heart Never Forgets
16. Purple Rain
Password:
MorPeh
Download