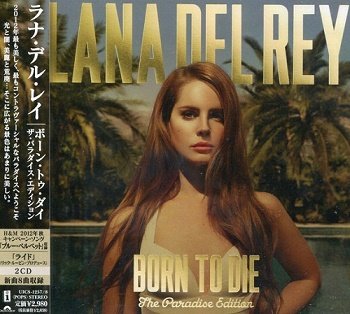 Artist:
Lana Del Rey
Title Of Album:
Born To Die The Paradise Edition (Japan Edition)
Release Date:
2012
Location:
USA
Label:
Universal Music (UICS-1257/8)
Genre:
Indie Pop, Alternative, Soft Rock
Quality:
FLAC (image+.cue+covers)
Length:
01:39:00 min
Tracks:
24 (2CD)
Total Size:
791 MB (+5%)
Born to Die: The Paradise Edition is the reissue of American singer and songwriter Lana Del Rey's second studio album Born to Die (2012). It was released on November 9, 2012 by Interscope Records and Polydor Records. Released ten months after the original, The Paradise Edition features eight newly recorded tracks, which were simultaneously made available on the standalone extended play Paradise (2012). Although having worked with several producers for each record, Emile Haynie and Rick Nowels are the only producers whose contributions are featured on both discs.
Tracklist:
CD 1 - Born To Die:
01. Born To Die [04:46]
02. Off To The Races [04:59]
03. Blue Jeans [03:29]
04. Video Games [04:41]
05. Diet Mountain Dew [03:42]
06. National Anthem [03:50]
07. Dark Paradise [04:03]
08. Radio [03:34]
09. Carmen [04:08]
10. Million Dollar Man [03:51]
11. Summertime Sadness [04:25]
12. This Is What Makes Us Girls [03:58]
13. Without You [03:49]
14. Lolita [03:40]
15. Lucky Ones [03:46]
16. Video Games [05:02]
CD 2 - The Paradise Edition:
01. Ride [04:49]
02. American [04:08]
03. Cola [04:21]
04. Body Electric [03:53]
05. Blue Velvet [02:38]
06. Gods and Monsters [03:57]
07. Yayo [05:21]
08. Bel Air [03:59]
Password:
MorPeh
Download