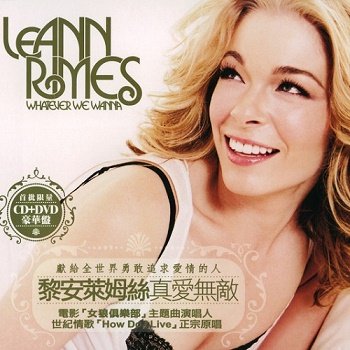 Artist:
LeAnn Rimes
Title Of Album:
Whatever We Wanna (Taiwan Edition)
Release Date:
2006
Location:
USA
Label:
Curb Records (5051011519925)
Genre:
Country, Pop
Quality:
APE (image+.cue+covers)
Length:
01:12:36 min
Tracks:
17
Total Size:
526 MB (+5%)
Whatever We Wanna is the eighth studio album by LeAnn Rimes, released June 6, 2006. The album is similar to her R&B influenced Twisted Angel but has a more rock-oriented sound. The album was released and promoted exclusively in Europe, Taiwan, and Brazil. It was originally slated to be released in the U.S. (and even appeared in the US iTunes store briefly), however, the release was pulled due to the success of her single (from This Woman), "Something's Gotta Give" (which peaked at #2 on Billboard's Top Country Songs), leading to an increase in sales of This Woman.
Tracklist:
01. Satisfied
02. And It Feels Like
03. For The First Time
04. Save Myself
05. A Little More Time
06. Rumour 'Bout A Revolution
07. Destructive
08. Strong
09. Whatever We Wanna
10. Everybody's Someone (With Brian McFadden)
11. Headphones
12. Long Night
13. This Life
14. Break Me Down
15. Some People
16. And It Feels Like (Friday Night Posse Mix) (Bonus Track)
17. Strong (Cicada Remix) (Bonus Track)
Password:
morpeh
Внимание! У Вас нет прав для просмотра скрытого текста.