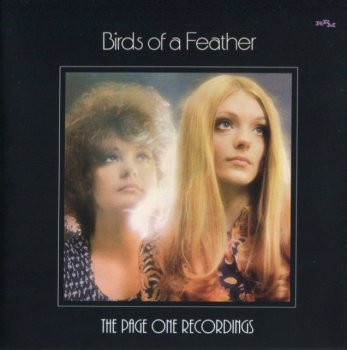 Artist: Birds Of A Feather
Title Of Album: The Page One Recordings
Year Of Release: 1970/2017
Label (Catalog#) RPM [Retro 996]
Country:: UK
Genre: Sunshine Pop, Soul, R & B
Quality: FLAC (tracks+cue,log)
Bitrate: Lossless
Time: 00:40:40
Full Size: 245mb(+3%)(covers)

Rick Wakeman - Keyboards, Elton John - Piano...

Presenting the nom de plumage of Birds Of A Feather, namely sisters Doreen and Irene Chanter, with their sole album, recorded in April and released in October 1970, the result of an audition with publisher Dick James Music.
This subsequently led to an association with a production team, led by Gus Dudgeon, which included arrangers, musicians and writers then concurrently involved in the developing world of Elton John. Assistant to Dudgeon, Stuart Epps sat in the producer's chair, Caleb Quaye the arranger, and Elton John himself as session pianist, backing vocalist and writer providing four of his songs for the LP:
'Border Song' and 'Bad Side Of The Moon' (recorded a fortnight after Elton's single versions released in March 1970)
'Take Me To The Pilot' (from the eponymous Elton John LP released April 1970)
'Country Comfort' (Elton's version released on the Tumbleweed Connection LP in October 1970)
The album is also noteworthy for the inclusion of five original songs penned by Doreen Chanter.
The sisters Chanter gained a reputation for their soulful and gospel-like performances which, aside from a string of their own singles, made them much in demand for backing vocals, performing with Bryan Ferry & Roxy Music, Pink Floyd, John Miles, Meatloaf and Joe Cocker amongst others.
Making its CD debut, this RPM re-issue includes a fully illustrated booklet featuring fresh interviews with Stuart Epps and Doreen Chanter, presenting insights into the scene at the time.
Tracks:
--------
01. Take Me To The Pilot (Elton John, Bernie Taupin) - 3:14
02. Get It Together (Doreen Chanter) - 2:27
03. One More Time (Sam Cooke) - 3:41
04. Border Song (Elton John, Bernie Taupin) - 3:29
05. All God's Children Got Soul (Booker T. Jones, William Bell) - 2:58
06. What Is Life (Doreen Chanter) - 2:05
07. Take The World (Doreen Chanter) - 3:05
08. Bad Side Of The Moon (Elton John, Bernie Taupin) - 2:42
09. Baby Don't You Bring Me Down (Doreen Chanter) - 2:31
10. Gimme Shelter (Mick Jagger, Keith Richard) - 2:42
11. Leaving The Ghetto (Doreen Chanter) - 2:22
12. Country Comfort (Elton John, Bernie Taupin) - 3:09
Bonus Tracks:
13. Blacksmith Blues (Jack Holmes) - 3:35
14. Sing My Song And Pray (Doreen Chanter, Irene Chanter) - 2:34

Personnel:
---------
Doreen Chanter - Vocals
Irene Chanter - Vocals
Alex Chanter - Guitar
Charlie Chanter - Drums
Elton John - Piano
Caleb Quaye - Guitar
Rick Wakeman - Keyboards

All thanks to original releaser
Внимание! У Вас нет прав для просмотра скрытого текста.
Изменил: sirk по причине: RE-UP