Artist: Toots Thielemans
Title Of Album The Brasil Project Vol.1.2
Year Of Release:1992-93
Label (Catalog#) : Private Music [CD 82110/CD 20198]
Country: Brazil
Genre: Bossa nova, Latin Jazz
Quality: FLAC (tracks+cue,log)
Bitrate: Lossless
Total Time: 01:22:03
Total Size: 576mb(+3%)(covers)

AllMusic Review by Scott Yanow
This popular set matches the brilliant harmonica player Toots Thielemans with such top Brazilian performers as Ivan Lins, Djavan, Oscar Castro-Neves, Dori Caymmi, Ricardo Silveira, João Bosco, Gilberto Gil, Milton Nascimento, Caetano Veloso, Luiz Bonfá, Edu Lobo and Eliane Elias, in addition to bassist Brian Bromberg, keyboardist Michael Lang, trumpeter Mark Isham and Dave Grusin. Thielemans is often in a supportive role behind the many soothing Brazilian singers and performers. The atmospheric date surprisingly does not have any Antonio Carlos Jobim songs, instead emphasizing lesser-known tunes (other than Toots' greatest hit "Bluesette"). Easily recommended to fans of Brazilian pop and jazz, this CD was soon followed by a second (and equally rewarding) set featuring many of the same performers.

AllMusic Review by Ron Wynn
Guitarist, harmonica player, and whistler Toots Thielemans' followup to the critically acclaimed Brasil Project doesn't stray far from its predecessor's path. There are 13 nice Afro-Latin selections with Thielemans backing such top Brazilian vocalists as Milton Nascimento, Gilberto Gil, Ivan Lins, Caetano Veloso, and Dori Caymmi, among others, and guitarists Oscar Castro-Nieves and Lee Ritenour assisting Thielemans with delicate shadings and accompaniment.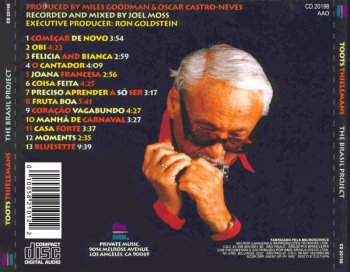 Tracks:
------
The Brasil Project Vol.1:
01. Comecar De Novo (Ivan Lins, Vitor Martins) (3:57)
02. Obi (Djavan) (4:23)
03. Felicia And Bianca (Oscar Castro-Neves) (3:01)
04. O Cantador (Dori Caymmi, Nelson Motta) (4:11)
05. Joana Francesa (2:57)
06. Coisa Feita (Aldir Blanc, João Bosco, Paulo Emilio) (4:27)
07. Preciso Aprender A So Ser (Gilberto Gil) (3:19)
08. Fruta Boa (Fernando Brant, Milton Nascimento) (5:41)
09. Coracao Vagabundo (Caetano Veloso) (4:29)
10. Manha De Carnaval (Luiz Bonfá, Antônio Maria) (3:29)
11. Casa Forte (Edú Lobo) (3:40)
12. Moments (Eliane Elias) (2:35)
13. Bluesette (Norman Gimbel, Toots Thielemans) (9:41)

The Brasil Project Vol.2:
01. Cê (Ivan Lins, Vitor Martins) (5:30)
02. Chôro Bandido (Chico Buarque, Edu Lobo) (3:36)
03. Retrato em Branco e Preto (Chico Buarque, Antônio Carlos Jobim) (3:19)
04. Obsession (Dori Caymmi, Gilson Peranzzetta, Tracy Mann) (3:34)
05. Travessia (Fernando Brant, Gene Lees, Milton Nascimento) (3:09)
06. Flora (Gilberto Gil) (4:25)
07. Unconditional Love (Tom Kelly, Cyndi Lauper, Billy Steinberg) (5:18)
08. Papel Mache (2:59)
09. O Futebol (Chico Buarque) (3:37)
10. Linda (Você É Linda) (Caetano Veloso) (3:48)
11. Samba de Uma Nota So (Jon Hendricks, Antônio Carlos Jobim, Newton Mendonça) (3:22)
12. Oceano (Djavan) (5:21)
13. Samba de Orfeu (Luiz Bonfá) (3:36)

All thanks to original releaser

Внимание! У Вас нет прав для просмотра скрытого текста.