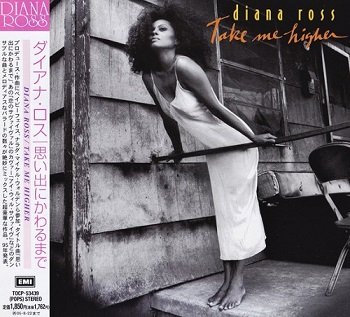 Artist:
Diana Ross
Title Of Album:
Take Me Higher (Japan Edition)
Release Date:
2005 (1995)
Location:
USA
Label:
Toshiba / EMI (TOCP-53439)
Genre:
Soul, R&B, Pop, Disco
Quality:
FLAC (image+.cue+covers)
Length:
55:06 min
Tracks:
12
Total Size:
1.07 GB (+5%)
Take Me Higher is a studio album by American singer Diana Ross, released on September 5, 1995 by the Motown label. The album features production from urban producers such as Narada Michael Walden, Brenda Russell, Jon-John and the Boom Brothers, the latter two coming from Babyface's production company. The album yielded the UK hits "Take Me Higher", "Gone" and Ross's dance cover of Gloria Gaynor's "I Will Survive", which featured club mixes by Steve Rodway of Motiv8 and Grammy Award-winning Remixer Hex Hector. Upon its release, the album was well-received by music critics and fans. Ross's large fan base embraced the album as one of the finest additions to her vast body of work.
Tracklist:
01. Take Me Higher [04:20]
02. If You're Not Gonna Love Me Right [04:41]
03. I Never Loved A Man Before [04:54]
04. Swing It [04:14]
05. Keep It Right There [04:33]
06. Don't Stop [04:07]
07. Gone [05:16]
08. I Thought That We Were Still In Love [04:52]
09. Voice Of The Heart [04:54]
10. Only Love Can Conquer All [04:10]
11. I Will Survive [04:50]
12. If We Hold On Together [04:09]
Password:
morpeh
Внимание! У Вас нет прав для просмотра скрытого текста.