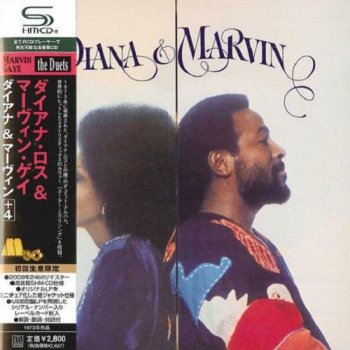 Artist:
Diana Ross & Marvin Gaye
Title Of Album:
Diana & Marvin (Japan Edition)
Release Date:
2009 (1973)
Location:
USA
Label:
Universal Music (UICY-94168)
Genre:
Soul, R&B, Pop, Disco
Quality:
FLAC (image+.cue+covers)
Length:
47:41 min
Tracks:
14
Total Size:
1.20 GB (+5%)
Diana & Marvin is a duets album by American soul musicians Diana Ross and Marvin Gaye, released October 26, 1973 on Motown. Recording sessions for the album took place in 1972 and 1973 at Motown Recording Studios in Hollywood, California. Featuring vocal collaborations by Gaye and Ross, widely recognized at the time as two of the top soul and pop performers, respectively. Diana & Marvin became a multi-chart success that managed to sell over a million copies worldwide. The album was remastered and re-released on compact disc with four bonus tracks on February 6, 2001.
Tracklist:
01. You Are Everything [03:10]
02. Love Twins [03:32]
03. Don't Knock My Love [02:23]
04. You're A Special Part Of Me [03:41]
05. Pledging My Love [03:37]
06. Just Say, Just Say [04:15]
07. Stop, Look, Listen (To Your Heart) [02:57]
08. I'm Falling In Love With You [02:45]
09. My Mistake (Was To Love You) [03:00]
10. Include Me In Your Life [03:10]
11. Alone [03:48]
12. The Things I Will Not Miss [03:01]
13. I've Come To Love You So Much [03:49]
14. I'll Keep My Light In My Window [04:26]
Password:
morpeh
Внимание! У Вас нет прав для просмотра скрытого текста.
Изменил: MuatDip21 по причине: re-up