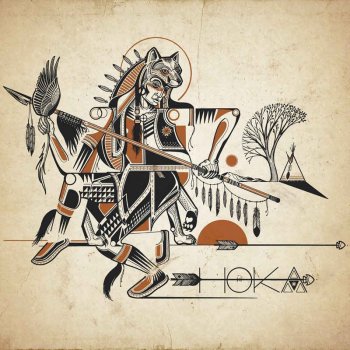 Artist: Nahko & Medicine For The People
Title Of Album: Hoka
Year Of Release: 2016
Label (Catalog#): SideOneDummy/Medicine Tribe [SD1617-2]
Genre: Alternative, Indie Folk, Pop Rock, Singer-Songwriter
Quality: FLAC (tracks +.cue)
Bitrate: Lossless
Time: 1:18:44
Full Size: 497 mb
Upload: Turbobit
Some people go a lifetime without knowing their mission in life, without feeling they have true calling, and without knowing why they even do what they do. Nahko is not one of them. And that
calling and mission has never been clearer than it is on Nahko and Medicine for the People's third full-length album, HOKA (SideOneDummy Records).
On HOKA, Nahko's voice is strong. His mission is clear. The mandate has been thrown down. 'Hoka'
is a Lakota word, an indigenous tribe from the Great Plains, it is a call to action. It's what Crazy Horse would say when he went into battle, 'Hoka, hey!' 'My call is to put action to the words that I speak and the lyrics I sing. Not just to talk, but to do,' says Oregon-born singer/songwriter Nahko, who is of
Puerto Rican, Native American (Apache), and Filipino descent.
TRACKLIST:
1. Hoka
2. Directions (feat. Joseph)
3. It Is Written
4. All Can Be Done
5. San Quentin
6. We Shall Overcome
7. Two Wolves
8. Great Spirit
9. We Are On Time
10. Love Letters To God
11. Heart Forward
12. Tus Pies (Your Feet)
13. Backbone
14. Ku Kia'i Mauna (feat. Hawane & Pua Case)
15. Build A Bridge
16. Make A Change (feat. Zella Day)
17. Give A Little, Get A Little
18. Runner
19. The Wolves Have Returned (feat. Trevor Hall, Xavier Rudd, Leah Song & Joseph)
:: DOWNLOAD LINK ::
Внимание! У Вас нет прав для просмотра скрытого текста.
:: MusicMuss ::
Изменил: artmuss по причине: Re-Up