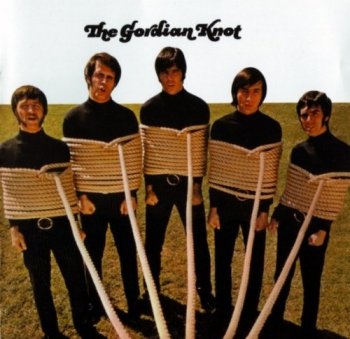 Artist: The Gordian Knot
Title Of Album The Gordian Knot
Year f Release:1968/2007
Label (Catalog#) : Rev-Ola [CRREV 186]
Country: USA
Genre: Psych Pop Rock,Soft Rock
Quality: FLAC (tracks+cue,log,scans)
Bitrate: Lossless
Time: 00:34:40
Full Size: 280mb(+3%)

Gordian Knot was a short-lived band from southern California by way of Mississippi. They released only one album, a terrific soft rock/harmony pop effort produced by Clark Burroughs of the Hi-Lo's. Original pressings are considered highly collectible and valuable. The group formed at the University of Mississippi and was led by ex-Mississippi all-American quarterback/guitarist/lead vocalist Jim Weatherly, a native of Pontotoc, MS. The group caught their biggest break after they appeared at a party thrown by Nancy Sinatra, who apparently liked them so much that she asked them to accompany her on a USO trip to Vietnam. According to their liner notes, they were "one of the few groups since the Beatles to possess genuine charm...not a phony show biz glucose charm, but the real thing." The bulk of the songs for their album were written by Weatherly, and have an edgier, husky country-rock vibe compared with those written by Leland Russell, whose beautiful tunes are comparatively similar to the Association's (Burroughs, it should be pointed out, was also a vocal arranger on the Association's Insight Out and Waterbeds in Trinidad! albums). "One Way Street" is the band's lone obligatory jug band entry. The bandmembers also appeared as themselves in a 1968 MGM teensploitation flick called Young Runaways, performing an original entitled "Ophelia's Dream." A few years after the release of this album, Weatherly moved to Nashville and became a country singer/songwriter, penning a handful of hits. Weatherly's biggest success as a songsmith came in 1973, however, when he wrote five of the nine songs on Gladys Knight & the Pips' Top Ten album Imagination, including the soulful "Best Thing That Ever Happened to Me" and "Midnight Train to Georgia" ("Midnight Plane to Houston" was the original title), a pop and R&B number one smash in September 1973. It scored two Grammy awards the following year. Weatherly recorded several albums for Buddah in the mid-'70s, and a few on ABC and Elektra. He has since co-written with younger country acts and provided Vince Gill, Bryan White, and others with hit songs.
Tracks:
-------
01. It's Gonna Take A Lot — 2:50
02. We Must Be Doing Somethin' Right — 2:47
03. Strong Wind Blowin' — 2:42
04. One Way Street — 3:09
05. Carnival Lights, Again — 3:08
06. Carraway Stream — 2:46
07. The World Keeps Spinnin' — 3:11
08. The Year Of The Sun — 3:00
09. I Can't Be Hurt Anymore — 3:13
10. If Only I Could Fly — 3:04
11. Broken Down Ole Merry-Go-Round — 4:20

Personnel:
---------
Jim Weatherly (James Dexter Weatherly) — vocals (01-04, 09), rhythm guitar
Pat Kincade — lead guitar, vocals
J.D. Lobue — piano, organ, vocals (01, 05, 07, 10, 11)
Leland Russell — bass, vocals (02, 04, 06, 08, 11)
Dulin Lancaster — drums

All thanks to original releaser
Внимание! У Вас нет прав для просмотра скрытого текста.