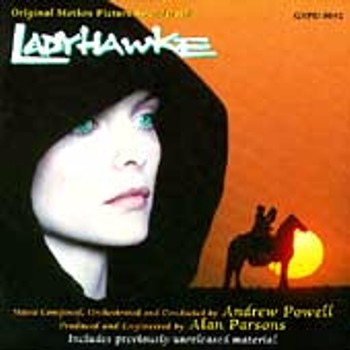 Исполнитель : Andrew Powell
Альбом: Ladyhawke: Original Motion Picture Soundtrack
Жанр : Pop/Rock
Год : 1985
Формат : APE (image+.cue)
Битрейт аудио : lossless
Размер : 406 МБ
Залито на : rapidshare.com
Процент восстановления : 3
The film's score was composed by Andrew Powell. Richard Donner stated that he was listening to The Alan Parsons Project (on which Powell collaborated) while scouting for locations, and became unable to separate his visual ideas from the music. Powell combined traditional orchestral music and Gregorian chants with contemporary progressive rock-infused material, to controversial effect. It has been cited as the most memorable example of the growing trend among 1980s fantasy films of abandoning the lush orchestral scores of composers such as John Williams and James Horner in favour of a modern pop/rock sound.
Ladyhawke was nominated for two Academy Awards, in the categories of Best Sound Editing and Best Sound Mixing, winning neither. It won a Saturn Award for Best Fantasy Film, and was nominated in the categories of Best Actress (Michelle Pfeiffer) and Best Music (Andrew Powell).
Ladyhawke треклист:
1. Main Title
2. Phillippe's Escape
3. The Search For Phillippe
4. Tavern Fight (Phillippe)
5. Tavern Fight (Navarre)
6. Pitou's Woods
7. Phillippe Describes Isabeau
8. Bishop's Procession
9. Wedding MUsic
10. Navarre's Ambush
11. Imperius Removes Arrow
12. Chase / Fall / Transformation
13. Cezar's Woods
14. She Was Sad At First
15. Navarre Returns To Aquila
16. Turret Chase / The Fall - Film Version
17. Wolf Trapped in Ice
18. Navarre And Isabeau's Dual Transformation
19. Navarre And Marquet Duel
20. Marquet's Death
21. Bishop's Death
22. Final Reunion / End Title
23. Ladyhawke Theme: Single Version
Внимание! У Вас нет прав для просмотра скрытого текста.