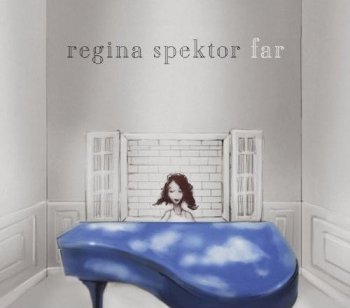 Исполнитель: Regina Spektor
Альбом: Far
Год выпуска: 2009
Лейбл: Sire Records Company
Жанр: Acoustic, Anti-Folk, Indie, Piano, Rock
Формат: FLAC [tracks|log|cue]
Размер: 283 MB
Залито на: Depositfiles, Hotfile
Треклист:

1. "The Calculation"
2. "Eet"
3. "Blue Lips"
4. "Folding Chair"
5. "Machine"
6. "Laughing With"
7. "Human of the Year"
8. "Two Birds"
9. "Dance Anthem of the 80s"
10. "Genius Next Door"
11. "Wallet"
12. "One More Time with Feeling"
13. "Man of a Thousand Faces"


The New York-via-Moscow singer-songwriter Regina Spektor is interminably cute. Watching her perform is akin to witnessing a child unwrapping their Christmas presents—she's all Cheshire cat grins and explosive titters. Part of what made 2006's Begin to Hope a Billboard Top 20 hit was those bubbly intonations, nimble turns of phrase, and charming punch lines. On her follow-up, Far , the eccentric pop starlet amplifies her appeal with a heavy-hitting production foursome: Jeff Lynne (ELO, Traveling Wilburys), Begin to Hope 's David Kahne, Mike Elizondo (Fiona Apple, Maroon 5), and Garret "Jacknife" Lee (U2, R.E.M.) The venturesome tracklist involves shadowy voyeuristic narratives ("Genius Next Door"), poppy numbers about Blockbuster and lost wallets ("The Wallet"), and some Spektorian goofball silliness ("Folding Chair" has the singer imitating a dolphin).
~ Kyle Lemmon
Внимание! У Вас нет прав для просмотра скрытого текста.