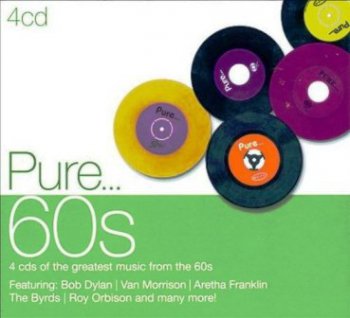 Исполнитель:
VA
Название альбома:
Pure 60s
Жанр:
Pop, Rock
Год выпуска:
2012
Количество треков:
4CD
Время звучания:
3:25:53
Формат:
FLAC
Качество:
Lossless
Размер файла:
1,25 ГБ
Залито на:
Letitbit, Shareflare , Vip-File
Треклист:
Disc 1
1. I Want You-Bob Dylan
2. Brown Eyed Girl-Van Morrison
3. Oh Pretty Woman-Roy Orbison
4. Suspicious Minds-Elvis Presley
5. Be My Baby-The Ronettes
6. Mrs. Robinson-Simon Garfunkel
7. Mr. Tambourine Man-The Byrds
8. Everybody 39;s Talkin 39;-Harry Nilsson;George Tipton
9. San Francisco-Scott McKenzie
10. Cupid-Johnny Nash
11. One Love-Bob Marley
12. Light My Fire-Jose Feliciano
13. Groupie Superstar -Delaney Bonnie And Friends
14. Wedding Bell Blues-Laura Nyro
15. Moon River Henry Mancini His Orchestra And Chorus
16. To Love Somebody-Nina Simone
17. Piece Of My Heart-Erma Franklin
Disc 2
1. Ring Of Fire-Johnny Cash
2. Can 39;t Take My Eyes Off You-Andy Williams
3. Blue Velvet-Bobby Vinton
4. Move Over Darling-Doris Day
5. I Will Follow Him Chariot -Peggy March
6. Young Girl-Gary Puckett The Union Gap
7. Everlasting Love-Love Affair
8. The Letter-The Box Tops
9. Kicks-Paul Revere The Raiders featuring Mark Lindsay
10. Hang On Sloopy-The McCoys
11. Flowers On The Wall-The Statler Brothers
12. The Good, The Bad and The Ugly-Hugo Montenegro and His Orchestra and Chorus
13. The 39;In 39; Crowd Instrumental -Ramsey Lewis
14. You 39;ve Made Me So Very Happy-Blood Sweat Tears
15. Didn 39;t I Blow Your Mind This Time -The Delfonics
16. It 39;s Your Thing-The Isley Brothers
17. Dance To The Music-Sly The Family Stone
Disc 3
1. The Shoop Shoop Song-Aretha Franklin
2. Aquarius/Let The Sunshine In-The Fifth Dimension
3. Breaking Up Is Hard To Do-Neil Sedaka
4. Donna The Prima Donna-Dion
5. I Left My Heart In San Francisco-Tony Bennett
6. The Theme From A Summer Place -Percy Faith
7. Midnight Special-Harry Belafonte
8. Take Five-Carmen McRae with the Dave Brubeck Quartet
9. I 39;ve Got You Under My Skin-Mel Torme
10. The End Of The World-Skeeter Davis
11. Stand By Your Man-Tammy Wynette
12. Dumb Blonde-Dolly Parton
13. Welcome To My World-Jim Reeves
14. What Will My Mary Say-Johnny Mathis
15. Bless You-Tony Orlando
16. Today I Met The Boy I 39;m Gonna Marry-Darlene Love
17. Stay-Maurice Williams and the Zodiacs
Disc 4
1. Somebody To Love-Jefferson Airplane
2. In The Year 2525-Zager Evans
3. Get Together-The Youngbloods
4. Do You Believe In Magic-The Lovin 39; Spoonful
5. Green Tambourine-The Lemon Pipers
6. Hush-Billy Joe Royal
7. Summertime-Big Brother The Holding Company;Janis Joplin
8. Yellow Brick Road-Captain Beefheart His Magic Band
9. Changes-Moby Grape
10. Undun Single Version -The Guess Who
11. Mechanical World-Spirit
12. Be Careful With A Fool-Johnny Winter
13. Race With The Devil-Gun
14. Rockin 39; Pneumonia And The Boogie Woogie Flu-The Flamin 39; Groovies
15. Six Days On The Road-Taj Mahal
16. Village Dance-The Ravi Shankar Project
17. Evil Ways-Santana
Внимание! У Вас нет прав для просмотра скрытого текста.