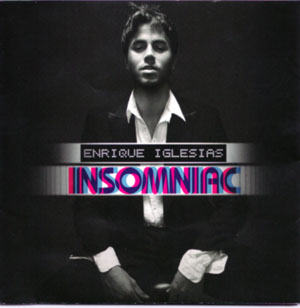 Enrique Iglesias - Insomniac (2007)
EAC-Rip | Wav+LOG+Cue | 44.1Hz 16 Bit Stereo | Scans | ~450 Mb
Rock/Latin | Label:iFirm | 2007 Interscope Records | RAR 3% Rec.|RS/no pass |
Insomniac is the eighth studio album (and fourth English-language album) from singer Enrique Iglesias' . The album is produced by John Shanks, Kristian Lundin, Sean Garrett, Anders Bagge, Mark Taylor, Stargate, and Maratone. It also contains his first collaboration with a rapper (Lil Wayne) as well as a cover of indie band Ringside's "Tired of Being Sorry".
This album is said to be different from his prior albums, incorporating a more contemporary pop style than his previous albums as well as the aforementioned hip hop collaboration the album uses elements of R&B and Latin. It was released on June 12, 2007 in the USA and Worldwide June 11, 2007 by Universal Music Group to mixed reviews.
EAC LOGTraklist:
01. Ring My Bells
02. Push
03. Do You Know? (The Ping Pong Song)
04. Somebody's Me
05. Ob Top Of You
06. Tired Of Being Sorry
07. Miss You
08. Wish I Was Your Lover
09. Little Girl
10. Stay Here Tonight
11. Sweet Isabel
12. Don't You Forget About Me
13. Dimelo
14. Alguien Soy Yo (Spanish version of Sombody's Me)
15. Amigo Vulnerable (Spanish version of Tired Of Being Sorry)
Внимание! У Вас нет прав для просмотра скрытого текста.