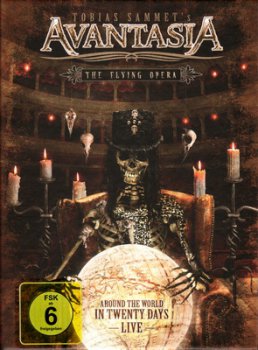 Исполнитель:
Avantasia
Страна:
Germany
Альбом:
The Flying Opera - Around The World In Twenty Days
Жанр
: Power Metal
Год выхода:
2011
Формат:
DVD video ,APE (image+.cue+log)
Размер:
DVD9 - 7Gb+DVD5 - 4,13 Gb + 2CD 770 Mb + cover 57.8 Mb
Audio:
DD 2.0 DD 5.1 LPCM
Залито на:
Depositfiles + Ifolder
(3% восстановление)
Дополнительно:
Covers
Треклист:
DVD1:
1. Twisted Mind
2. The Scarecrow
3. Another Angel Down
4. Prelude / Reach out for the Light
5. Inside
6. No Return
7. The Story ain't Over
8. Shelter from the Rain
9. Lost in Space
10. I don't Believe in Your Love
11. Avantasia
12. Serpents in Paradise
13. Promised Land
14. The Toy Master
15. Farewell
16. Sign of the Cross / The Seven Angels (Medley)
DVD2:
1. Overture
2. From the Сradle to the Stage
3. Avantasia Live - The Expedition Starts
4. Sweden Rock Festival 2008
5. The Birth of Avantasia
6. A New Era (2006)
7. Moscow 2008
8. Avantasians
9. Tokyo 2008
10. The Scarecrow
11. Lost in Space
12. Mexico & South America
13. Avantasians
14. Impressions from Mexico & South America
15. Soundcheck Avantasians
16. Back in Europe (Czech Republic-Masters of rock)
17. Avantasians
18. 150 000 Hands in the Air: Wacken
19. Where do we Go from Here?
20. And the Story Goes On...
21. Epilogue
22. Lost in Space (Video Clip)
23. Carry me Over (Video Clip)
24. Carry me Over (Making Of The Video Clip)
25. Dying for an Angel (Video Clip)
CD1
Twisted Mind (06:42)
The Scarecrow (11:53)
Another Angel Down (05:25)
Prelude (01:26)
Reach Out For The Light (06:24)
Inside (07:01)
No Return (05:04)
The Story Ain't Over (05:29)
Shelter From The Rain (07:02)
Lost In Space (03:55)
CD2
I Don't Believe In Your Love (06:49)
Avantasia (05:09)
Serpents In Paradise (07:26)
Promised Land (05:37)
The Toy Master (06:26)
Farewell (06:15)
Sign Of The Cross - The Seven Angels (Medley) (17:55)
Release Date: 18.3.2011
Label: Nuclear Blast
Band:
Tobias Sammet - Vocals, Keys, Orchestration, Bass (Edguy)
Sascha Paeth - Guitars (Heavens Gate, Luca Turilli, Virgo (Matos/Paeth), Redkey, Luca Turilli's Dreamquest, Rhapsody (Session), Aina)
Michael "Miro" Rodenberg - Keyboards, Orchestration (Luca Turilli, Virgo (Matos/Paeth), Kamelot, Aina)
Eric Singer - Drums (Kiss, Alice Cooper, Black Sabbath, Stream (USA), Drive)
Special Guests:
Kai Hansen - Vocals & Lead Guitar (Gamma Ray, Helloween, Iron Fist (Deu), Iron Savior)
Bob Catley - Vocals (Bob Catley, Magnum, Hard Rain)
Jorn Lande - Vocals (Jorn, Masterplan, Allen / Lande, Millenium (USA), Mundanus Imperium, Beyond Twilight, Ark, Yngwie J. Malmsteen, The Snakes, Vagabond (Nor), Wild Willy's Gang)
Amanda Somerville - Vocals (Aina, Avantasia, Epica (Nld), guest in After Forever, guest in Edguy, guest in Kamelot, guest in Shaman (Bra), HDK)
Oliver Hartmann - Guitar (At Vance, Aina, Iron Mask, Empty Tremor, Genius, Hartmann)
Michael Kiske - Vocals (Helloween, Supared, Place Vendome, Ill Prophecy)
Download / Скачать:
Cover
Внимание! У Вас нет прав для просмотра скрытого текста.