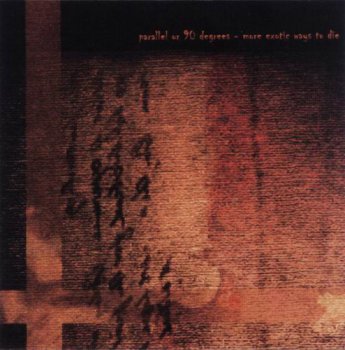 YEAR: 2002
STYLE: Progressive/ Psychedelic Rock/ Space Rock
FORMAT: APE (Image + Log + .Cue + Scans + 5% Recovery)
SIZE: 302 Mb
COUNTRY: UK
THE BAND:
Andy Tilson Diskdrive - vocals; organs & synthesizers; Sam Baine - piano & synthesizers; Dan Watts - electric guitar; Ken Senior - bass guitar; Alex King - drums & percussion
Not only the parts of the epic piece More Exotic Ways to Die, but all the tracks that are featured on this album were created within the framework of a unified stylistics. I know that as a whole, "More Exotic Ways to Die" is not even a concept album. However, most of all, this album (as a whole!) reminds me of those kinds of Rock Operas that feature a single singer. For example, such albums as Marillion's "Brave", "Subterranea" by IQ, Arena's "The Visitor", etc, I regard exactly so. Musically, "More Exotic Ways to Die" is a distinctly original and in many ways unique album. All of the parallels that I draw in this review are only relative, but not comparative. While "Brave" is more an intricate album than "More Exotic Ways to Die", this one, in its turn, surpasses "The Visitor" by all means. Being on the whole of the same level of complexity as "Subterranea", the new PO90D album has, however, more a modern feel to it than any of the works that I've mentioned above. Also, many of the instrumental arrangements that are featured on "More Exotic Ways to Die" are, unlike those on all three of the said albums, clearly in the vein of Classic Art-Rock of the 1970s. Back to parallels, the other ones can be drawn between this album and Porcupine Tree's "Signify" (1996). These two works just marvelously combine within themselves both of such incompatible things as the complexity and accessibility. Yes, such a combination seems to be impossible in our dual world. Music however (and most of you know this), is not an Earthly substance. This set of sounds that is often much more impressive than any of the other arts (all of which, by the way, are based on the concrete symbols, etc), exists in Eternity where there are no any borders, and the parallel lines easily cross each other. So the union of complexity and accessibility in music is only seemingly impossible. Apart from the stylistic originality, that union is the main trump of the new music by PO90D. Well, stylistically, only the first part of More Exotic Ways to Die is kind of a progressive hit. On all the other tracks, the modern progressive structures and those that are typical for a hard-edged Classic Symphonic Art-Rock are balanced very well. It is really amazing to hear how wonderfully the accessible vocal parts sound if they were performed with the use of complex time signatures. Especially since the seemingly unobtrusive, but, in fact, very intriguing instrumental arrangements flow nonstop regardless whether there are vocals. Most often, the instrumental parts consist of diverse and contrasting interplay between the heavy and at the same time slow guitar riffs and fast, bright and virtuosi, solos of synthesizer, organ, and electric guitar (or vice versa). The alternation of power and soft structures is typical for this album as well. The latter of them contain for the most part the touching vocals along with the affecting passages of piano. Andy Tilson's vocals are kind of theatrically dramatic, which is always appropriate and, on the whole, typical for such a sort of albums. The work of both the 'bosses' of rhythm-section is masterful and diverse as well.
http://www.progressor.net/
Track Listing:
1 Impaled on Railing 4:44
2 A Man of thin Air 5:06
3 Embalmed in Acid 5:43
4 The heavy Guillotine Approach 5:27
5 Drum one 3:14
6 The one that sounds like Tangerine Dream 1:31
7 A Body in free Drift 8:29
8 The Dream 2:37
9 Petroleum Addicts 13:35
Andy Tilson Diskdrive - vocals; organs & synthesizers
Sam Baine - piano & synthesizers
Dan Watts - electric guitar
Ken Senior - bass guitar
Alex King - drums & percussion
Внимание! У Вас нет прав для просмотра скрытого текста.