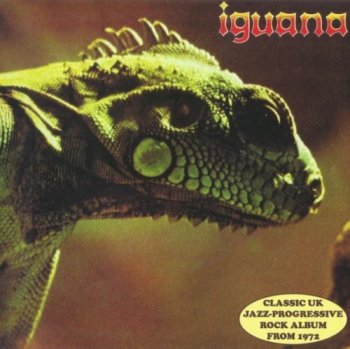 Artist: Iguana
Title Of Album: Iguana
Year Of Release: 1972/2012
Label (Catalog#) Flawed Gems [GEM 93]
Country:: UK
Genre: Prog Jazz Rock
Quality: FLAC (image + cue,scans)
Bitrate: Lossless
Time: 00:35:56
Full Size: 223mb(+5%)

The mysterious British band Iguana was formed in Southampton in early 70's and released one excellent album originally in 1972 on label Polydor Records. and then disappear without a trace. The core of the band was guitarist/vocalist Bruce Roberts, bass-player John Cartwright and drummer Pete Hunt, The trio was augmented by strong dual brass-section - Ron Taylor on alto sax and tambourine and Chris Gower on trombone also piano played here by Don Shinn.

Despite the album being released on the well-known Polydor label, it quickly became one of its most obscure items, since for some strange reason nobody was interested in the great blend of loud jazz-rock and energetic heavy rock stuffed with progressive elemenets.

The sound of Iguana is rich and colorful, based on permanent juxtapositions of heavy, some what funky guitar sound and jazzy saxophone riffs – most of the songs are catchy and easy-to-get-into, in spit'e of their complex structures, alluding stylistics soul unique, sophisticated and richly orchestrated with vocals reminiscent of Mike Patto.

Though most of the tracks are vocal-driven, there are enough space for adventurous instrumental excursions, the band achieves a perfect balance between song-oriented as is the longest piece on the LP, almost 9-minute 'Price Of Love' reminding Colosseum, Mogul Thrash and other brass rockers of the 1970s. Actually Brainchild's 'Healing Of The Lunatic Owl' would be the closest comparison to Iguana's. debut, only if Brainchild work was closer to progressive realms, Iguana veers more towards pure rocking sound, making the accent on sheer intensity of the early British rock music.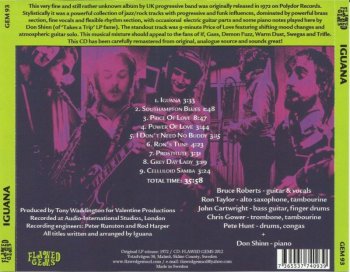 Tracks:
--------
1. Iguana - 3:33
2. Southampton Blues - 1:47
3. Price Of Love - 8:46
4. Power Of Love - 3:45
5. I Don't Need No Buddy - 3:15
6. Ron's Tune - 4:23
7. Prostitude - 3:31
8. Grey Day Lady - 3:19
9. Celluloid Samba - 3:24

Personnel:
---------
Bruce Roberts - Guitar, Vocals
Ronnie Taylor - Alto Saxophone, Tambourine
John Cartwright - Bass, Finger Drums
Chris Gower - Trombone, Tambourine
Pete Hunt - Drums, Congas
Don Shinn - Piano

All thanks to original releaser
Внимание! У Вас нет прав для просмотра скрытого текста.
Изменил: sirk по причине: RE-UP