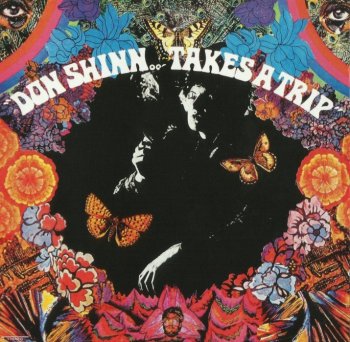 Artist: Don Shinn
Title Of Album: Takes A Trip
Year Of Release:1969[2010]
Label (Catalog#) :Flawed Gems[GEM 19]
Country:: UK
Genre: Prog Rock, Jazz-Rock
Quality: FLAC (tracks+ cue,scans)
Bitrate: Lossless
Time: 00:45:08
Full Size: 300mb(+3%)

Don Shinn (born Donald Shinn, 15 December 1945, Southampton, Hampshire) is an English keyboard player, multi-instrumentalist, composer, and vocalist. He is known primarily as an organist and pianist, and also plays vibraphone. In the early-mid 1960's he recorded and performed with British Beat groups The MeddyEVILS, The Echoes (backing Dusty Springfield), and The Soul Agents (featuring Rod Stewart). In 1967 he formed his own band The Shinn, which also featured future Uriah Heep bassist Paul Newton, future drummer for The Nice, Brian Davison, and vocalist Eddie Lamb. In 1969 he released two instrumental albums, 'Departures', and 'Temples With Prophets' (aka 'Don Shinn Takes A Trip'). He was a member of the English band Dada (featuring Elkie Brooks) and appears on their eponymous album released in 1970. He has also worked with Kiki Dee, James Taylor, Engelbert Humperdinck, Stan Tracey, Persian vocalist Parvaneh Farid, Iguana, and Renaissance. He is cited as a pioneer within the progressive rock movement of the late 1960s and early 1970s, and has been acknowledged by British keyboardist/composer Keith Emerson as a major influence. Uriah Heep bassist Paul Newton has also credited Shinn as a mentor and teacher. As of January 2012, unconfirmed reports indicate that Shinn is still musically active and based in the Southampton area of the UK.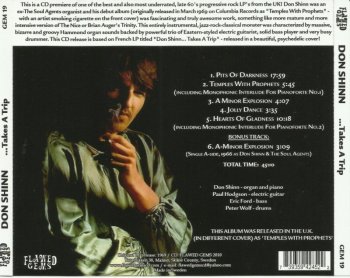 Tracks:
-------
1. Pits Of Darkness - 17:59
2. Temples With Prophets - 5:45
3. A Minor Explosion - 4:07
4. Jolly Dance - 3:35
5. Hearts Of Gladness - 10:18
6. A-Minor Explosion (Bonus) - 3:09

Personnel:
---------
Don Shinn - Organ, Piano
Paul Hodgson - Electric Guitar
Peter Wolf - Drums
Eric Ford - Bass

All thanks to original releaser
Внимание! У Вас нет прав для просмотра скрытого текста.