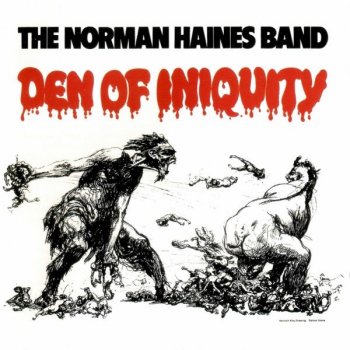 Artist: The Norman Haines Band
Title Of Album: Den Of Iniquity
Year Of Release: 1971/2011
Label (Catalog#) Esoteric[ECLEC2301]
Country: UK
Genre: Prog Rock
Bitrate: Lossless
Quality: FLAC (image + cue,log,scans)
Time: 01:03:31
Full Size: 387mb(+3%)
The only reason I bought this LP some 40 years ago was the artwork of Heinrich Kley* on the cover - I admire Kley, and I thought that the band who knows this artist couldn't be some harebrained pop outfit. The music went beyond all my expectations. The same LP was re-issued with bonus tracks by Shoestring (I bought it, for sure), and of course I bought this superb re-issue by Esoteric Records - all compositions from the original album plus 6 bonus tracks and excellent leaflet with solid review by Sid Smith.
I would strongly recommend this album to any fan of psych/prog of the 70s - if you still don't have it.
The talent of Norman Haines is grossly neglected, although he is one of the top keyboard players of the era, and a brilliant composer. His first claim to fame and glory was with the Locomotive (We Are Everything You See) - also re-issued by Esoteric - for which Haines wrote most of the compositions. However, his co-operation with Locomotive (the musicians of Locomotive later formed The Dog That Bit People)was short, and soon Haines was working on a new album to be recorded Abbey Road studios. The album was released on Parlophone, and it contains some exceptional keyboard pieces (pre-dating Rick Wakeman Journey to the Centre of the Earth and showcasing the harmonies which one could later hear on The Electric Light Orchestra). Otherwise, it was extremely versatile and powerful masterpiece of acid prog, and Haines singing didn't spoil it either.
Most regretfully, the life of rock act in the early 70s ranged from few weeks to few months, and was really unrewarding.There is no need to write about the music - listen to it, but I place the band next to Procol Harum and King Crimson. By Golovanov Alexey:
Tracks:
-------
0. Den Of Iniquity - 4:33
02. Finding My Way Home (N. Haines, Andy Hughes) - 3:25
03. Everything You See Mr.Armageddon - 4:35
04. When I Come Down - 3:56
05. Bourgeois (Andy Hughes) - 2:59
06. Rabbits (Neil Clarke) - 13:05
.a.Sonata (For A Singing Pig)
.b.Joint Effort
.c.Skidpatch
.d.Miracle
07. Life Is So Unkind - 8:21
.a.Moonlight Mazurka
.b.Echoes Of The Future
08. I Really Need A Friend - 3:44
09. Daffodil - 3:51
10.Autumn Mobile - 3:32
11.Give It To You Girl - 4:36
12.Elaine - 2:54
13.Rabbits (Single Version) (Neil Clarke) - 3:53

Personnel:
---------
Neil Clarke - Lead Guitar
Norman Haines - Vocals, Keyboards
Andy Hughes - Vocals, Bass
Jimmy Skidmore - Drums, Percussion

All thanks to original releaser
Внимание! У Вас нет прав для просмотра скрытого текста.