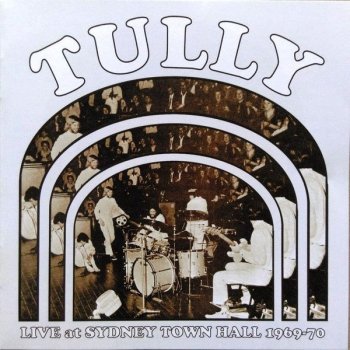 Artist Tully
Title Of Album Live At Sydney Town Hall
Year Of Release: 1970/2010
Label (Catalog#) Chapter Music [CH76]
Country: Australia
Genre: Art Rock, Prog Rock
Bitrate: Lossless
Quality: FLAC (tracks+cue,log)
Time: 00:52:13
Full Size: 275mb(+3%)(covers)

Chapter Music presents two
rare live recordings from quintessential Sydney prog group Tully, including their 1970
performance of Australia's first ever rock opera. These recordings capture the band in their
first incarnation, before they joined forces with members of revered folk-psych band
Extradition to explore more contemplative territory.
Sights & Sounds Of 69, from a May show
of the same name, is the only live Tully recording to have survived the intervening four
decades, and documents a typically far-ranging, mind-expanding performance.
Perhaps
Australia's greatest living composer, Peter Sculthorpe wrote Love 200 specifically with
Tully and vocalist Jeannie Lewis in mind. The work, commemorating Captain Cook's expedition
to map the Transit of Venus in 1769, was dismissed by the stuffy classcial establishment at
the time, but Sculthorpe now calls it simply "one of my best works." Heard here for the first
time since the early 70s, Love 200 is an astounding piece, both elegant and jarring, serene
and chaotic.
Sadly, all three of Tully's studio albums are still to be officially reissued.
Until then, Live at Sydney Town Hall, 1969-70 is a fascinating insight into the early work
of one of Australia's most heralded, but least heard bands.

Formed in late 1968, Tully the
First were wild, expansive and unpredictable, their live shows now the stuff of legend.
Terry Wilson (vocals), Richard Lockwood (reeds), Michael Carlos (organ), John Blake (bass)
and Robert Taylor (drums) employed extended improvisation, spacious dynamics and an intuitive
intensity, so impressing Australian jazz icon John Sangster that he called them "the best band
in the world at the time."

In mid 69, Tully became the house band for love-rock musical Hair,
recording the original cast album later that year. They also starred in a six part
live-in-studio series Fusions, which premiered on ABC TV in August 1969. Ken Firth
(later of the Ferrets) replaced John Blake on bass in December 1969.

After Tully's
1970 self-titled debut, Wilson and Taylor left the band, which then assimilated Extradition's
Shayna Stewart and Colin Campbell before releasing two more albums, Sea Of Joy (1971) and
Loving Is Hard (1972), both markedly different from their fiery and often thunderous early form.
Sadly, all three of Tully's studio albums are yet to be officially reissued.
Tracks:
-------
1. Love 200 (20:04)
2. Sights & Sounds of 69 (32:09)

Personnel:
---------
Michael Carlos (keyboards)
Richard Lockwood (flute/sax/clarinet/piano)
John Blake (bass)
Ken Firth (bass)
Robert Taylor (drums)
Terry Wilson (vocals/guitar/flute)

All thanks to original releaser
Внимание! У Вас нет прав для просмотра скрытого текста.