Artist: Guns & Butter
Title Of Album: Guns & Butter
Year Of Release: 1972/2011
Label (Catalog#) Flawed Gems [GEM 49]
Country: USA
Genre: Prog Rock, Jazz Rock
Bitrate: Lossless
Quality: FLAC (tracks+cue,log,scans)
Time: 00:40:28
Full Size: 260mb(+3%)

Guns And Butter biography
Jeff Lyons (vocals), Peter Cohen (bass),Paul Cohen (guitar) and Peter Tucker (drums) have been fooling around since their early teens. In 1970 Richard Ploss (sax, flute) joined the band, nad the band took the name GUNS AND BUTTER. In the summer of the same year, Lenny Federer, classically trained violinist started jamming wit them and soon joined the band, which found a new musical direction.

The music of this bizarre Boston-based combo is a mixture of classical music, radio friendly rock, jazz-rock, blues and many other things: they released one album (in 1972) before falling into obscurity. The music of GUNS AND BUTTER is well worth checking, especially if a listener is into early Eclectic artists, like EAST OF EDEN.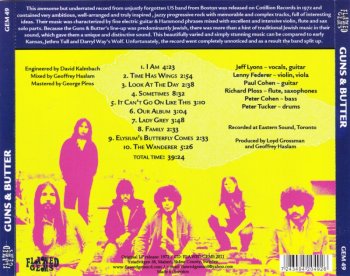 Tracks:
-------
1. I Am (4:24)
2. Time Has Wings/Introduction (3:50)
3. Look at the Day (2:37)
4. Sometimes (8:34)
5. It Can't Go On Like This (3:09)
6. Our Album (3:04)
7. Lady Grey (3:48)
8. Family (2:33)
9. Elysium's Butterfly Comes (2:32)
10. The Wanderer (5:27)

Personnel
---------
Peter Cohen / Bass
Lenny Federer / Violin, Viola
Jeff Lyons / Vocals
Richard Ploss / Flute, Saxophone
Peter Tucker / Drums
Paul Cohen / Guitar

All thanks to original releaser
Внимание! У Вас нет прав для просмотра скрытого текста.