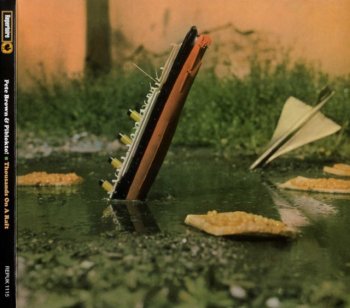 Artist: Pete Brown & Piblokto!
Title Of Album: Thousands On A Raft
Year Of Release: 1970/2009
Label (Catalog#) : Repertoire [REPUK 1115]
Country: UK
Genre: Heavy Progressive Rock
Quality: Lossless
Bitrate: FLAC (image + cue, log)
Total Time: 00:52:39
Total Size: 380mb(+3%)(covers)

AllMusic Review by Chris Nickson
Thousands on a Raft is remembered as much for its cover as anything else -- a picture of a model Titanic and a model Concorde sinking in a puddle, as rafts of toast ferry thousands of baked beans to the shore. Musically it was some good jazz-rock, with the emphasis not always on Brown's vocals and elliptical lyrics, as Jim Mullen's "Highland Song" offered an inventive, lengthy instrumental as the disc's centerpiece. The title cut has a Pink Floyd edge, surprising given Brown's predilection for jazz and blues, but it works well in the context. Guitarist Mullen is co-writer throughout, while the rhythm section of Rob Tait and Steve Glover swing rather than plod. "Station Song Platform Two" employs Mellotron to full prog rock effect, while "Got a Letter from a Computer" seems eerily ahead of its time for the early '70s. This was the last gasp of this incarnation of Piblokto!, but there's no doubt they went out on a high note.
Tracks:
-------
1. Aeroplane Head Woman (Pete Brown, Jim Mullen) - 6:44
2. Station Song Platform Two (Pete Brown, Jim Mullen) - 3:43
3. Highland Song (Jim Mullen) - 17:04
4. If They Could Only See Me (Jim Mullen) - 12:07
5. Got A Letter From A Compu (Pete Brown, Jim Mullen) - 5:51
6. Thousands On A Raft (Pete Brown, Jim Mullen) - 7:07

Personnel:
---------
Jim Mullen - Guitar, Percussion, Bass
Steve Glover - Bass Guitar, Percussion
Rob Tait - Drums, Percussion
Dave Thompson - Keyboards, Percussion, Soprano Saxophone , Mellotron
Pete Brown - Vocals, Talking Drum, Congas

All thanks to original releaser
Внимание! У Вас нет прав для просмотра скрытого текста.