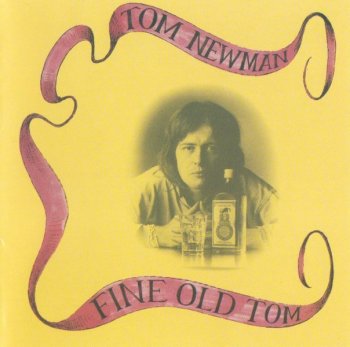 Artist: Tom Newman
Title Of Album: Fine Old Tom 1975
Year Of Release: 1975/1995
Label (Catalog#) Blueprint [BP166CD]
Country: UK
Genre: Prog Rock, Pop Rock
Bitrate: Lossless
Quality: WavPack (*image + .cue,log)
Time: 01:08:03
Full Size: 353mb(+3%)(covers)

AllMusic Review by David Ross Smith
Longtime producer/engineer for Mike Oldfield and many others, Tom Newman displays his creative chops on this, his first solo effort. A real sleeper, Fine Old Tom is a relatively obscure yet refreshing original pop/prog-rock project constructed by Newman and his pals, with Jon Field, Mike Oldfield, Ned Callan, Chris Cutler and Fred Frith in the starring roles. Everything on this eclectic album is done with original style and vigor to spare, convention being left by the wayside. Even Newman's cover of Lennon/McCartney's "She Said She Said" is inventive. Beatles influences are obvious in several of the pop-oriented compositions. Album highlights include the energetic "Nursery Rhyme," a prog piece with cynical lyrics and blistering guitar, and the excellent "Superman," a reggae-meets-punk experiment.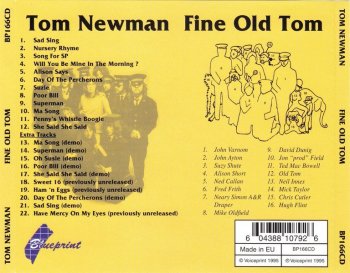 Tracks:
-------
01. Sad Sing
02. Nursery Rhyme
03. Song For SP
04. Will You Be Mine In The Morning ?
05. Alison Says
06. Day Of The Percherons
07. Suzie
08. Poor Bill
09. Superman
10. Ma Song
11. Penny's Whistle Boogie
12. She Said She Said
Extra Tracks:
13. Ma Song (Demo)
14. Superman (Demo)
15. Oh Susie (Demo)
16. Poor Bill (Demo)
17. She Said She Said (Demo)
18. Sweet 16
19. Ham 'n Eggs
20. Day Of The Percherons (Demo)
21. Sad Sing (Demo)
22. Have Mercy On My Eyes

Personnel:
---------
Peter Brook /Harmonica
Chris Butler/ Drums, Pans, Pots
Ned Callan/ Bass, Guitar (Bass)
Peter Cook/ Harmonica
Lol Coxhill /Sax (Soprano), Saxophone
David Duhig/ Guitar
Jon Field/ Drums, Percussion, Producer, Vocals, Wind
Hughie Flint/ Drums
Fred Frith/ Bass
Neil Innes/ Guitar, Keyboards, Organ, Slide Guitar
Ted MacDowell/ Guitar, Slide Guitar
Tom Newman/ Bells, Cymbals, Drums (Bass), Flageolet, Guitar, Guitar (Acoustic), Guitar (Bass), Handclapping, Keyboards, Mandolin, Organ, Producer, Tabla, Tambourine, Vocals
John Obyton/ Vocals
Mike Oldfield/ Guitars
Suzy Shute/ Choir Boy, Vocals
Mike Storey/ Keyboards, Piano
Mick Taylor/ Guitar, Vocals
John Varnom/ Guitar

All thanks to original releaser
Внимание! У Вас нет прав для просмотра скрытого текста.