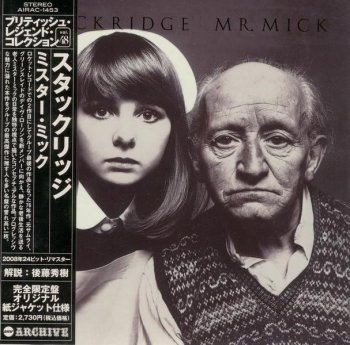 Artist: Stackridge
Title Of Album: Mr. Mick
Year Of Release: 1972/2008
Label (Catalog#) : AIR [AIRAC-1453]
Country: UK
Genre: Prog Rock
Quality: FLAC (image + .cue,log,scans)
Bitrate: Lossless
Total Time: 00:38:02
Total Size: 239mb(+3%)

Still riven by internal disputes that would even scupper the band's second coming 20 years later, Stackridge were at least boosted in 1976 by the return to the ranks of flutist and vocalist Mutter Slater and bassist Crun Walter -- though the talents of James Warren were still sorely missed. In fact it was Slater who dominated Mr. Mick, which took Stackridge away from the Zappa-ish tendencies of Extravaganza and back toward their Beatlesque roots. Unfortunately, 1976 was no time to be releasing a concept album, even one that had been chopped up and rendered meaningless by the record company, and Mr. Mick represented the point at which Stackridge finally succumbed to the allied forces of public indifference and punk. It's far from being their best album, but Mr. Mick still has considerable charm, once you get past the somewhat pointless cod-reggae version of the Beatles' "Hold Me Tight." This was ditched, however, when the band issued a revised edition of the album in 2000, complete with all the tracks that were excised first time around at the expense of Slater's story. Since several of these include long stretches of narration that quickly pall on repeated listening, this is one of those rare occasions when you feel a degree of sympathy for the record company. As for the story itself -- a "modern fairytale" about an old codger who visits a magic rubbish dump where all the discarded articles have a tale to tell -- as career advancement went, it was up there with Brian Wilson's Mount Vernon and Fairway. Nevertheless, "Fish in a Glass," "Steam Radio Song," and "The Slater's Waltz" all boast the kind of sumptuous pop melodies that first convinced George Martin to helm The Man in the Bowler Hat.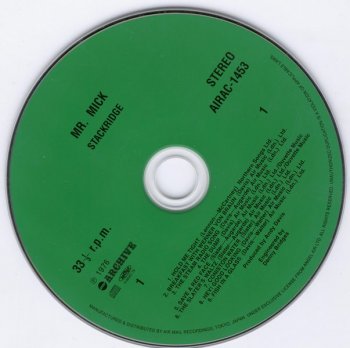 Tracks:
-------
01. Hold Me Tight – 3:33
02. Breakfast With Werner Von Braun – 4:06
03. Steam Radio Song – 3:34
04. The Dump – 1:47
05. Save A Red Face – 3:23
06. The Slater's Waltz – 4:34
07. Coniston Water – 5:22
08. Hey Good Looking – 4:16
09. Fish In A Glass – 7:18

Personnel:
---------
Andy Davis (Andy Cresswell-Davis) — guitar, keyboards, vocals, producer
Mike «Mutter» Slater — flute, keyboards, vocals and narration
Keith Gemmell — saxophones, clarinet
Jim «Crun» Walter — bass
Peter Van Hooke — drums
Dave Lawson — keyboards
Ray Russell — guitar
Joanna Karlin — vocals (06)

All thanks to original releaser
Внимание! У Вас нет прав для просмотра скрытого текста.