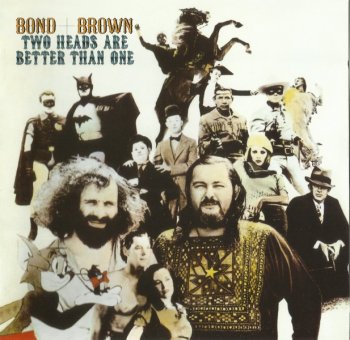 Artist:Bond + Brown
Title Of Album: Two Heads Are Better Than One
Year Of Release: 1972/2009
Label (Catalog#) Esoteric [ECLEC 2042]
Country: UK
Genre: Prog Rock, Blues Rock, Jazz Rock
Bitrate: Lossless
Quality: FLAC (image + cue)
Time: 00:43:57
Full Size: 324mb(+3%)(covers)
AllMusic Review by Dave Thompson
As epitaphs go, Graham Bond couldn't have done much better, even if he had known this set was to be his final album. Perhaps because the multi-instrumentalist was working with his old friend Pete Brown, the entire album has a wonderfully creative frisson to it, all heightened by the ease with which the band play off each other. It's particularly noticeable in the way Bond's piano and Derek Foley's lead guitar intertwine on the splendid, gospel-fired "Amazing Grass," a hallelujah to marijuana, of course. The lyrical slyness is equal to the musical adventurism, which slides deftly across genres, but is anchored by Bond's invariably barreling R&B style. Pricking the skin of dubious record head "Ig the Pig," or reflecting on the horrors of war on "CFDT (Colonel Frights' Dancing Terrapins)," drug dreams infuse the album's themes while romance lightens the mood. But it's the funky, jazzy, rockin' blues Bond & Brown celebrate across this excellent set that makes it positively unforgettable.
Tracks:
-------
01. Lost Tribe (Pete Brown, Graham Bond) - 3:54
02. Ig The Pig (Graham Bond) - 4:39
03. Oobatl (DeLisle Harper) - 3:45
04. Amazing Grass (Diane Bond) - 5:08
05. Scunthorpe Crabmeat Train Sideways Boogie Shuffle Stomp (Pete Brown, Graham Bond) - 4:05
06. C.F.D.T. (Colonel Frights' Dancing Terrapins) (Pete Brown) - 5:52
07. Mass Debate (Ed Spevock, Pete Brown) - 3:24
08. Looking For Time (Pete Brown, Graham Bond) - 1:58
Bonus tracks: from "Lost Tribe" EP 1972
09. Milk Is Turning Sour In My Shoes (G. Bond, Phil Ryan, Taff Williams) - 7:31
10. Macumbe (DeLisle Harper) - 3:38

Personnel:
---------
Graham Bond - Piano, Electric Piano, Alto Saxophone, Vocals, Organ
Pete Brown - Trumpet, Talking Drums, Vocals
Diane Bond - Vocals, Congas, Percussion
Ed Spevock - Drums, Percussion, Backing Vocals
Lisle Harper - Bass, Congas, Vocals
Derek Foley - Lead Guitar
Mick Hutchinson - Guitar On C.F.D.T.
Mick Walker - Backing Vocals, Percussion
Sue Woolley, Erica Bond - Backing Vocals

All thanks to original releaser
Внимание! У Вас нет прав для просмотра скрытого текста.